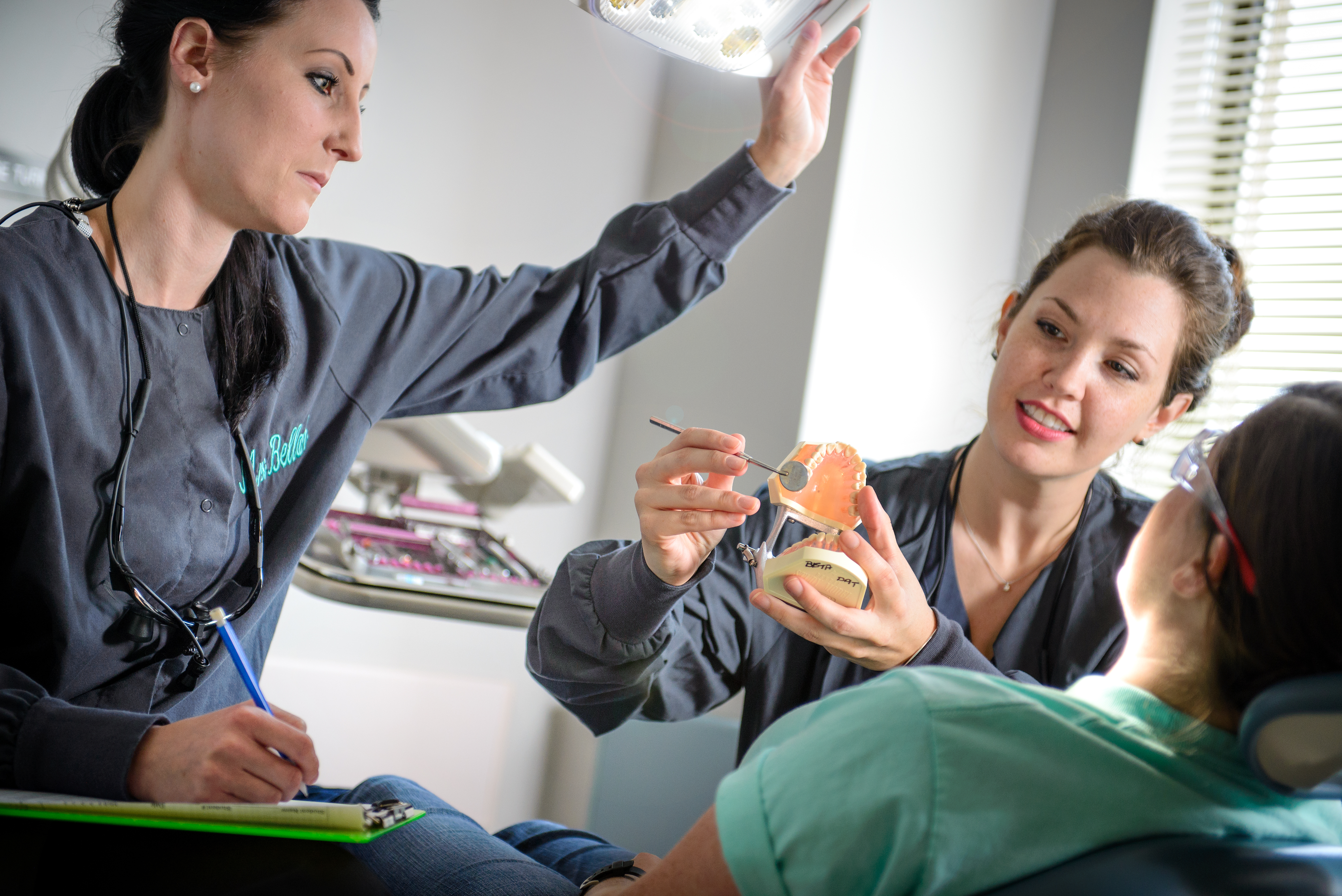 In addition to the general requirements for college admission, Health Science programs have additional criteria for admission. The specific requirements for each program are outlined on the following pages. The criteria are on file in the Admissions Office and the offices of program directors. Admission to the individual program is based on indicators of success within each program. In addition to standardized admissions test scores, the following factors are reviewed for consideration: previous work experience; high school GPA; rank in class; high school or college grades in science, mathematics and other specific courses; and previous college experience. Certain programs require observations at area health organizations prior to admission. All programs require an interview prior to final acceptance.
Students applying to Health Science programs may experience delays in entering their program because of the limited number of students accepted each year.
Types of Standardized Admissions Tests
TEAS-V (Formerly the HOBET-V)
Scholastic Aptitude Test (SAT)
American College Test (ACT) or Residual ACT(R-ACT*)
Midlands Technical College Placement Test 
Standardized admissions tests must have been taken within the previous three years to be considered for program admissions qualification. The admissions section for each program will note the appropriate test and required scores. In addition, applicants are required to complete testing for course placement according to regular college-wide admissions procedures prior to interviews.
Exemptions
Occasionally, for certain highly qualified applicants, including those with college credentials, one or more of the objective criteria may be waived or modified with the approval of the program director and the department chair.
Courses used to exempt standardized admissions tests must have been taken within the previous three years to be considered. Students must complete all developmental and prerequisite courses one term prior to entry into the Health Science programs.
Important Things to Know
Additional Requirements

Health Science students are required to purchase malpractice insurance through the college, each semester, as part of their student fees. The minimum amount of coverage required is $200,000 each claim, $600,000 each incident. The approximate cost of this coverage is $2 per semester. In addition to insurance, students may be required to purchase and maintain certain equipment, learning modules and uniforms as part of the educational program. These requirements will vary depending on the student's program. Upon acceptance, students are provided a health form that must be completed and given to the Nursing department's laboratory manager no earlier than 45 days before, and no later than the beginning of the first semester in their major, unless a specific extension is granted by the program director or department chair. Students are not allowed to participate in clinicals until this requirement is met. All students must present annual tuberculosis test results to remain in their program. Students, except Health Information Management majors, must present evidence of adequate hepatitis B antibody titer or begin the hepatitis B vaccine protocol prior to program entry. All students must present current certification in adult, infant and child cardiopulmonary resuscitation (CPR) prior to program entry.

Advance Standings

The Health Science programs will accept comparable course work from other colleges. If there are questions about the differences of content or competency levels, then the program will issue the student a validation exam either in writing, orally, or clinically. The student must pass the validation exam in accordance with required program grading standards.

Attendance

Health Sciences programs use a more stringent attendance policy than the general college policy. Faculty in each program will inform students of the applicable attendance policy.

Clinical Regulation

The clinical phase of instruction is an essential portion of all Health Sciences programs. During this phase, students may be involved in either direct or indirect patient care.

Students are responsible for their own transportation during rotations and to off-campus program-related activities, including clinical and laboratories.

When participating in a clinical experience at any affiliate health care facility, students are governed by the college policies and the affiliate facility's regulations and protocols. Affiliate policies may require students to submit to the same drug testing procedures and criminal background checks that apply to employees of the facility. Students may be dismissed from clinical activities and/or the program if found in violation of clinical affiliation policies. CPR certification must be current for clinical rotations. All immunizations and health tests must be kept current.

Students are required to observe standard precautions in all labs and clinics where there is a risk of exposure to blood and body fluids. Students must wear their identification badge while in clinical facilities in accordance with the "Lewis Blackman Patient Act of 2005".

Students in the Health Science programs are not generally permitted to receive compensation for time spent in a facility as a part of the clinical course assignment. Students should check with their program director for clarification of their accrediting agency standards

Course Acceptance Time Frames

All mathematics and science courses (to include AHS courses) must be taken according to the following criteria:

Grade of "C" completed within 3 years of program entry Grade of "B" completed within 4 years of program entry

 

Other general education courses, completed with at least a "C" may be applied indefinitely for course credit within Health Science programs.

Grade of "A" completed within 5 years of program entry
or must be validated in accordance with program standards

Course Repeats

Students graduating from Health Science programs may not repeat non-technology courses more than once to earn the requisite "C" or above grade. The "course repeat policy" will be applied to all coursework attempted in the 10 years prior to the student's applying for program eligibility status, whether the course work was completed at MTC or at other colleges.

The number of health science technology courses (courses which have the specific health sciences program prefix) that may be repeated is determined by the health science technology program and published in the program section of the catalog.

Criminal Background Checks

Students entering the clinical portion of the Health Science programs will be required to produce acceptable results from a background investigation that may include but is not limited to: criminal background check, including all places of residence since the age of 18; Sex Offenders Registry; Office of the Inspector General, FBI fingerprint record, and any other registry or records required by law. In addition to background checks, students will be required to produce acceptable results from drug screenings before their participation in Health Sciences education. Clinical facilities may require additional background checks and additional drug screenings during the clinical rotations. Students must be eligible to rotate in all clinical locations utilized by the programs. Exclusion from any of the clinical locations based on a positive drug screen or criminal records check will prevent participation in clinical training.

Graduation Requirements

To graduate, students must meet all requirements of the specific curriculum, receive a grade of "C" or better in all courses in the academic major, and in all science and mathematics courses, including Health Calculations, and apply for graduation. All major course work must be completed within the four years preceding graduation. In addition, students graduating from Nursing and Health Sciences may not repeat technology, science, or mathematics courses, including Health Calculations, more than once. The number of technology courses that may be repeated is determined by the program director and published in the program section of the catalogue.

Readmission to Programs

Students who have an interruption of two semesters or less (excluding summers) in the normal progression of their Health Science studies, whether by failure or withdrawal, may apply to the program director for readmission. Space in these programs is very limited. Therefore, students will be readmitted on a space-available basis. The student handbook of each program details specific readmission procedures, including restrictions on the number of readmissions allowed. If the student has been out of the program for one year or more, the student must meet the current admissions criteria.

Tuition and Fees

Tuition for the Health Science programs is based on the enrollment status of the student and is consistent with the tuition schedule for all MTC students.

Students in the Health Science programs will be responsible for additional fees for items such as uniforms, required equipment, memberships in professional and student organizations, fees for professional meetings, as well as national or regional certification, registry or licensure exams. Information about these additional expenses is available from the individual programs.