Read All News
Soft Skills Are More Important Than Ever
Jan 14, 2020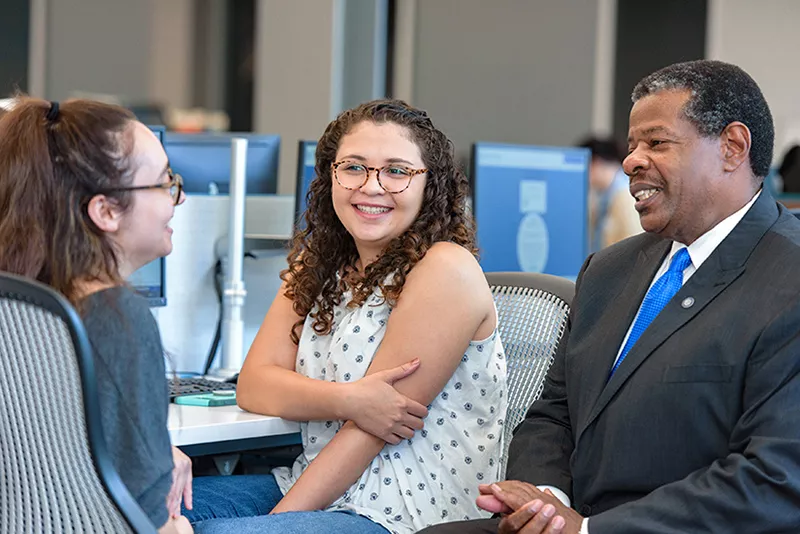 To succeed after graduation, students need the critical soft skills employers demand. MTC incorporates these skills into college programs and services, preparing students for lifelong success.
Midlands Technical College is known for its rigorous, career-focused education. But to succeed after graduation, students also need the critical soft skills employers demand.
MTC is committed to incorporating these soft skills into college programs and services, preparing students for lifelong success. Soft skills are directly integrated into the curriculum of many of MTC's academic and training programs, and the college has a wide variety of student resources that focus on these skills.
MTC's William Jerry Wood Life Skills Center, which was established in 2014, serves as a hub to centralize these efforts. The center provides student services dedicated to college and career success and offers training and guidance on establishing essential life or soft skills. These soft skills – such as communication techniques, work ethic, financial literacy, and leadership – when paired with an MTC education, ensure graduates will be career-ready.
"Many students who enter college don't realize the skills it takes to be successful professionally in a career," said Brad Kauffman Program Coordinator of the Life Skills Center. "The Life Skills Center exists to provide a wide range of services designed to help equip students to achieve and maintain meaningful employment to support themselves and their families after MTC. Students will receive real-world instruction in areas such as effective communication, responding positively to feedback, time-management, and conflict resolution."
According to MTC's hiring partners, students with effective soft skills make significant contributions to the success of the organization. Through the Life Skills Center, and in collaboration with the Academic Success Center and Student Development Services, MTC continues to work hard to provide a comprehensive program of direct services and referrals to address issues which may negatively impact the academic success of MTC students. These include poor study skills, transportation issues, financial constraints, and other barriers to success.
MTC President Dr. Ronald L. Rhames agrees that the Life Skills Center helps students make the transition from the classroom to the workforce an easier one.
"Our students and the community around them benefit equally from the soft-skill knowledge the center provides," said Rhames. "There is a growing need for employees in the Midlands with more than just educational knowledge, and we rely heavily on the Life Skills Center to help us incorporate those skills into the MTC curriculum."
"The Life Skills Center has been an incredible addition to the MTC community for our students," said Kauffman. "The real world after graduation comes at you fast. It requires some necessary skills that we provide here at MTC that will help them out as they continue to grow professionally."
Life Skills Centers are located on MTC's Airport and Beltline campuses. Students may either be referred to the center or self-enroll for services. For each student who enrolls at the center, staff members conduct a full assessment and design a customized Individual Success Plan (ISP). The plan may recommend career preparedness workshops, academic tutoring, and referrals to other MTC or community services or resources.