Read All News
MTC Welding Students Score Top Positions In Statewide Welding Skills Competition
May 02, 2019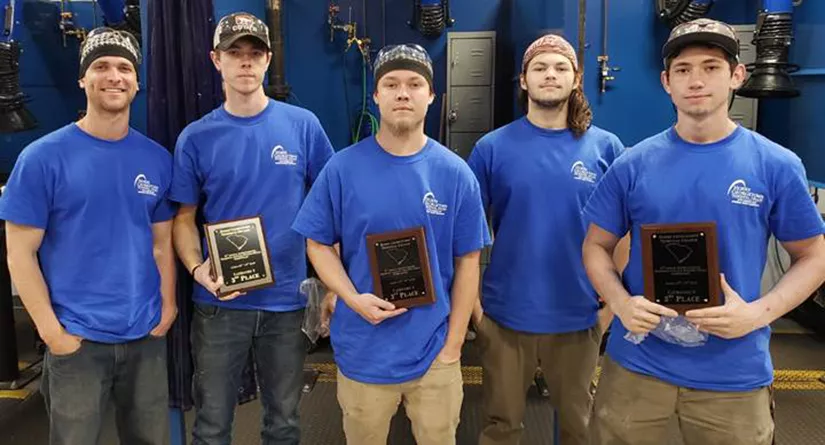 Photo: left to right: Perry Walston, Holly Esterline, Elliott Stoudemire, Jason-Luke Toth, and Griffin Sturkie.
Welding students from Midlands Technical College placed in the top of their categories at the South Carolina Technical College System's annual Welding Skills Competition. Technical colleges throughout South Carolina sent students to compete head-to-head in demonstrations of their advanced welding skills.
"These students represented MTC and our welding program with their extraordinary talents," said Caleb Fulwood, Lead Welding Instructor at Midlands Technical College. "Every day, we practice the skills they will soon be putting to use in the local welding industry. This event gives students the opportunity to compete with their peers at other colleges across the state."
MTC students Holly Esterline, Elliott Stoudemire, and Griffin Sturkie each placed in the top three of their respective categories. The competition consists of six categories for demonstrating different welding processes and advanced welding techniques. All three students came to MTC through an articulation program with their local high school that allowed them to earn college welding credits while still in high school.
"I enjoyed competing and showing the skills I'm learning at MTC," said Stoudemire, a graduate of Lexington Technology Center. "The welding program at MTC has really helped me learn the skills I will need to get a high-paying job in the future."
Kevin Gratton, a welding instructor at Lexington Technology Center, said MTC has the perfect program to keep welders on the path to the highest skill levels in the trade.
"It's a win-win situation for everyone involved," said Gratton. "We know that students are getting excellent training at Midlands Technical College. We can only take them so far, but we know MTC is very capable of moving them into advanced levels of welding.  We really appreciate the relationship between MTC and Lexington Technology Center. We truly have something special." 
The demand for welders in the Midlands is expected to increase by almost 12 percent over the next 10 years, and many prospective employers attended the welding competition to scout the next generation of talented welders.
MTC offers welding programs for daytime or evening study. Click here to learn more about MTC's welding programs.