Read All News
MTC Students have the Upper Hand
Jun 11, 2019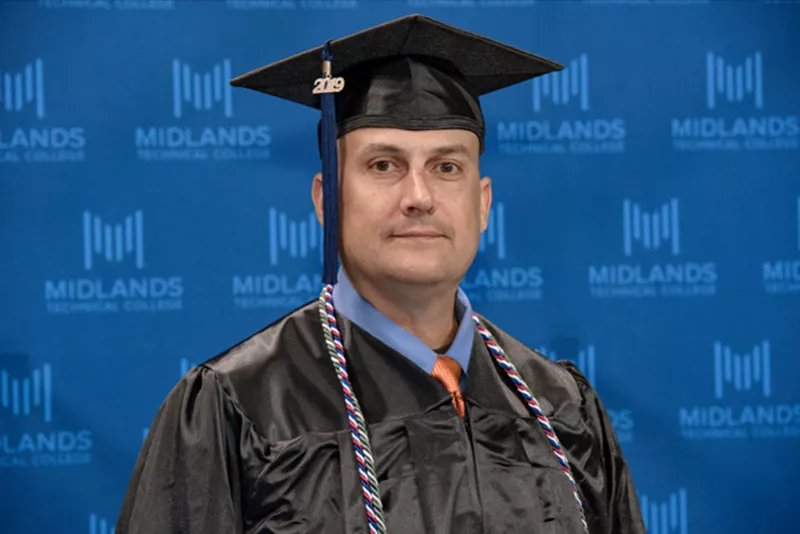 Army Veteran Anthony Orosz spent the last 29 years pursuing higher education, attending multiple colleges and even receiving a prior degree. But this May, for the first time, he walked across the stage at a graduation ceremony.
"I'm excited. I have a bachelor of science degree; however, I did not walk across the stage for that. I was an active duty soldier, and it just wasn't in the cards for me to walk across the stage," said Anthony. "This Midlands Technical College degree was more difficult as far as the skills I learned and the knowledge I gained, and I really wanted to honor my teachers and my classmates by walking at the MTC graduation."
Anthony, born and raised in Columbia S.C., has always understood the importance of education as the son of first-generation immigrants from Hungary.
"Both my parents graduated from a technical college in Budapest, so I was raised in a very science and engineering-oriented home," he explained. "My interest in engineering, machines, and making things started at an early age. When it was time for me to graduate from high school, I chose to major in architecture at Clemson University."
Anthony decided not to complete that degree, and after multiple changes in both majors and colleges, he graduated with a B.S. in Criminal Justice (B.S.C.J.) intending to go to law school.
"I earned the B.S.C.J. while on active duty in the U.S. Army. After 11 years and three deployments to Iraq, I changed direction and decided instead to pursue my love of manufacturing by enrolling in the MTC CNC program," said Anthony. 
He completed the CNC certification along with MTC's Entrepreneurship Certificate, and he has now graduated with an Associate Degree in Machine Tool Technology.
"The machine tool and die program at MTC is easily the best education program or degree course I have been a part of since I started my higher education journey 29 years ago," stated Anthony. "That's largely due to the experience and knowledge of the MTC instructors, and almost just as important, the network the instructors have built with local manufacturers. Those kinds of relationships take decades to establish, and their value to the school is immeasurable." 
By learning the machine trades from the bottom up, Anthony believes that MTC students leave the program with a clear advantage over students from other schools.
"MTC students are able to find solutions to problems that other machinists have a difficult time tackling. The fundamentals of manual machining taught at MTC are key to this problem-solving ability," said Anthony. 
"Furthermore, I have yet to hear of another school teaching mold and die fundamentals or having students make a plastic injection mold and manufacture parts with it. This alone makes the MTC program invaluable," Anthony said.
Having graduated just last month, Anthony has already laid out a clear path to success that he would like to follow using all of the knowledge and credentials he earned at MTC.
"After graduation, I will go to work for a short period while I build up the capital to purchase machines and establish my business," he explained. "By the end of 2019, I will have opened my own shop."
Since 2014, Anthony has owned his personal brand, HAUS Tool and Die, which he started as a morale patch maker catering to the veteran market. He also has multiple products designed and prototypes made in preparation for opening his business.
"In all honesty, I have no doubt that I will succeed and the credit for that goes to the people, Mark Blackberg, Phillip Jackson, and Dr. Alan Grier, who have made this MTC program what it is today," said Anthony.
For more information about these programs, visit CNC Program, Entrepreneurial Certificate, and Machine Tool Technology Program.