Read All News
MTC Partners with High Schools and Industry to Move Students Quickly into Manufacturing Careers
Apr 09, 2019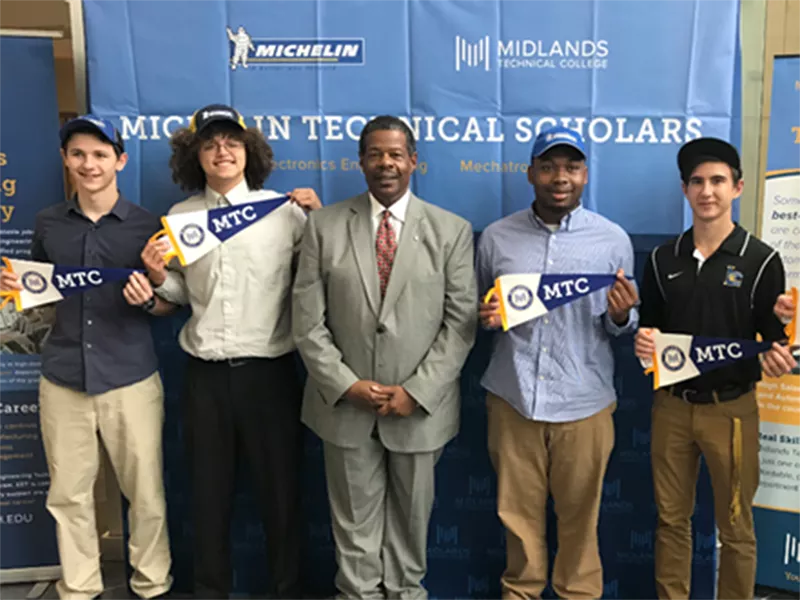 MTC President Ronald L. Rhames joined local high school students after a signing ceremony where they pledged to study Mechatronics at MTC through scholarships from Michelin.
The job market for technically educated, well-trained employees is growing rapidly in South Carolina. In response, Midlands Technical College (MTC) is partnering with five area high school Career and Technology Education Centers and 12 industry partners to move technically talented high school students quickly into great-paying jobs in the local manufacturing industry.
The new program, dubbed Pathways to Manufacturing Careers @ MTC, helps students complete their coursework more quickly while giving them hands-on experience with local businesses as they take classes at MTC.
"MTC is offering 22 scholarships for high school graduates interested in pursuing careers in welding or mechatronics, two occupations where area manufacturers are looking for new employees," said Sandra Hackley, MTC's Associate Vice President for Career Programs. "Some of these students are currently enrolled in high school courses that could lead straight into MTC welding or mechatronics programs."
On the front end, MTC is working with its partner high schools to give college credit to students who have taken manufacturing-related courses while in high school. On the back end, the college is working with industry partners to create work-based learning opportunities for the students, including paid internships and apprenticeships.
"Work experience is a key element of the program to prepare students for careers in manufacturing," said Hackley. "Workforce development in this area is critical to our industries and will impact the future growth and development of the Midlands region."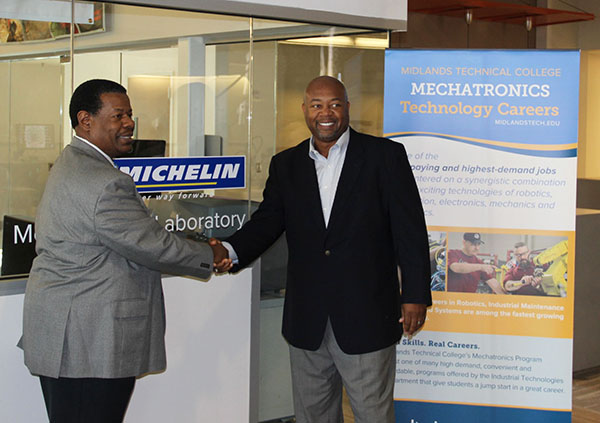 Ron Rhames greets Michelin's Mike Williams outside of the college's Mechatronics lab.
Many of MTC's industry partners have multiple positions and can't find the skilled employees to fill them. These "middle-skilled" positions often require education and training beyond high school but less than a four-year degree. Middle-skilled careers account for 45 percent of available jobs, but only 29 percent of available workers meet the middle-skilled hiring criteria.
Making sure students and their parents know about these career opportunities is an issue the Pathways to Manufacturing program is working to address.
"Many high school students are unaware of the exciting and well-paying career options they can have by enrolling in MTC's industrial programs," said Hackley. "Welding and mechatronics are just two of these careers where high pay and job growth are prevalent."
In the Midlands, welders earn an average of nearly $49,000. The demand for welders in the Midlands is expected to increase by almost 12 percent. In mechatronics, another growing career field, technicians earn an average of $58,000.
"Our goal is to create a clear pathway from high school to college and employment that creates a lasting pipeline of talent supporting and growing the manufacturing industry in the Midlands," said Hackley. 
Adding more high schools and manufacturing-related programs and careers into the Pathways to Manufacturing program is already in the works. MTC will host a Workforce Pathways Summit on June 6 to bring representatives from school districts and MTC together to map out new workforce and career pathways to support the manufacturing industry in the Midlands. High schools interested in participating should contact Gwendolyn Preston at prestong@midlandstech.edu.
Learn more about MTC's programs in welding and mechatronics.