Read All News
MTC Graduate Finds Her Passion
Jul 09, 2019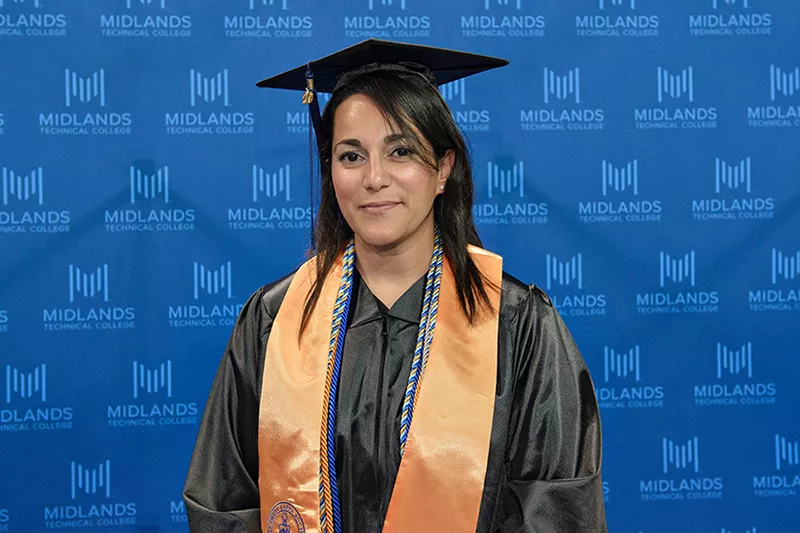 For Maria Cora, a recent MTC Associate in Arts graduate, going to college was never on her radar. After high school, she got a job as a waitress and didn't see the need to pursue a degree.
"I didn't want to go to college," she said. "My mom was like 'go, go, go,' but then I started working and making all this money, and I thought, why would I want to go to college?"
Looking back from where she is today, Maria has realized her mindset during that time wasn't what she it should've been.
"I think that was my worst mistake ever. Worrying about money then, not realizing that one day you're going to be old, and you're not going to have retirement or Social Security," she explained.
As her kids grew older and went into elementary school, she became involved at their school and soon started tutoring other students. Her hands-on involvement led to a curiosity about higher education that she hadn't had before.
"I thought I was too old to go to college, and I don't want to be with younger students," Maria said. "Everybody told me, first, you're not too old. Second, there's always time, and those years are going to pass no matter what, so you can either do nothing or take advantage of the years passing by. So, I decided to do it."
After enrolling at Midlands Technical College, Maria flourished both in and outside of school. She gained appreciation from her professors and peers for being an involved student that also encouraged those around her to speak up in the classroom.
"Maria has helped to create an optimal learning environment in her classes by regularly engaging in discussions and encouraging her fellow students to make the most of their educational opportunities," said Christine Witkowsky, a social and behavioral sciences instructor at MTC.
Christine went on to explain how Maria always offers assistance to other students in need and has become the kind of student every instructor loves to have in class, describing her passionate desire to learn, her enthusiasm and engagement, and her generous nature.
"She is an extraordinary example of the growth and development that students experience while attending MTC," said Christine. "I can't imagine a better student, community member, mom, or leader than Maria. She is the epitome of success here at the college."
Maria has also made her mark outside of the classroom as an MTC Ambassador, All-State Academic Team member, and a Phi Theta Kappa International Honor Society member. While not on campus, Maria volunteers at Satchel Ford Elementary and advocates for the Sexual Trauma Services of the Midlands. She was also honored at this year's MTC Honors Ceremony as the Associate in Arts Outstanding Student Award recipient and the Outstanding Phi Theta Kappa Member Award recipient.
"I was very blessed at the Honors Ceremony to receive those awards," she said. "I felt like a superstar, and I thought wow, I wish I had done this at 18!"
At the beginning of her journey at MTC, Maria was dedicated to becoming a teacher. After finding that her true passion is political science, she'd decided to combine the two areas in hopes of possibly teaching American Government to high school students one day.
"I want to work in something in the political field," said Maria. "I didn't think there was anything that I could do in that field, but coming to MTC has helped me realize that I can not only do that, but I can do so much more."
Maria will be continuing her education at the University of South Carolina in the fall to pursue her interest in political science. When talking about her move to the four-year institution, Maria said that the thought of leaving MTC makes her cry.
"I don't want to leave. MTC has opened my eyes to so much. I notice things in the world differently now because of my experience at MTC," she said. "I'm so blessed that I had the opportunity to come here first, and I would recommend it to anybody."
For more information about four-year college transfer options, visit MTC Transfer Programs.