Read All News
Midlands Technical College Students Receive Full Scholarships, Part-Time Jobs from Michelin
May 15, 2019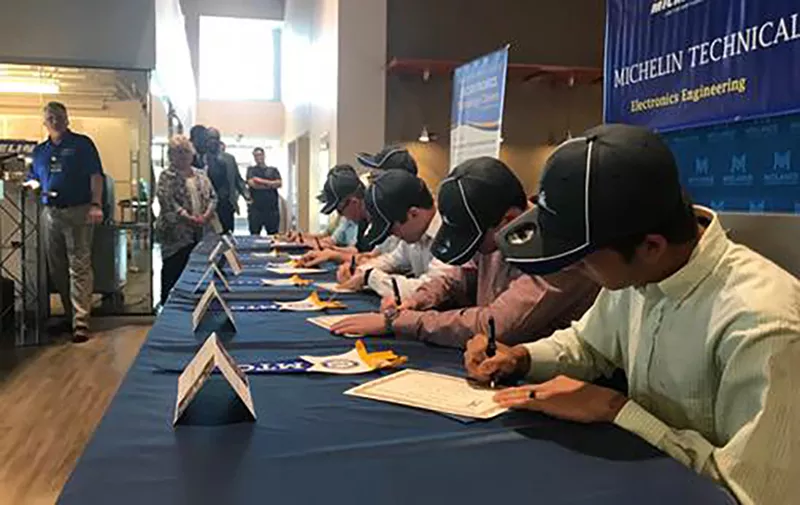 Students from area high schools in Lexington County donned Michelin ball caps and signed contracts to join Midlands Technical College (MTC) and Michelin as Michelin Technical Scholars. A highly successful college-corporate partnership, the Technical Scholars Program continues to fill the pipeline of talent Michelin will need to expand its operations.
"In this season of graduations, pinning ceremonies, and new beginnings, this occasion is one of my favorite opportunities to see talented students embark on a truly exceptional adventure," said Midlands Technical College President Dr. Ronald. L. Rhames. "By signing as Michelin Technical Scholars, these seven select students will have the cost of their tuition, fees, and books covered by Michelin."
The Technical Scholars are from Chapin, White Knoll, Lexington, and River Bluff high schools, as well as the Midlands Middle College. They will enroll this fall in either MTC's Electronics Engineering Technology or General Technology (Mechatronics) programs. Both programs offer two-year associate degrees that prepare students to work in highly automated manufacturing environments. The students will reinforce their classroom knowledge by working part-time in Michelin's manufacturing facility while in college.
After earning their degrees from MTC, the scholars will be strong candidates for full-time positions at Michelin with competitive salaries and opportunities for career growth. Mike Williams, facility personnel manager for the Lexington passenger tire manufacturing plant, said the education MTC students receive puts them in good positions to move up the Michelin employment ladder.
"Midlands Technical College allows students to go much further than they may realize," Williams said. "Many of the students who have come through this program are now advancing through our organization. As managers, they are leading major projects for the organization. These scholars starting today are just at the beginning of an entire career."
Just as athletics have "signing days" for new players, Williams said he likes to celebrate new Technical Scholars by giving them a "signing day" of their own.
"This is just as exciting as those athletes signing a contract for a million dollars," said Williams. "It's just as important that we celebrate young people who are earning an education and moving into the workforce."
Rhames and Williams said MTC and Michelin will celebrate more signing days in the years to come. They are also exploring ways to expand the number of students entering the program, as well as looking at more MTC programs that could supply Michelin with a future pipeline of technically trained employees.
"This is an extraordinary opportunity," Rhames said. "I cannot imagine a better chance to secure a first-class college degree in a technical field. These recruits are entering an exciting and challenging career. We are so very proud to welcome these outstanding individuals to the MTC family."
Learn more about MTC's programs in Electronics Engineering Technology and Mechatronics at midlandstech.edu.