Read All News
Midlands Technical College Launches Program in Renewable Energy
Aug 20, 2018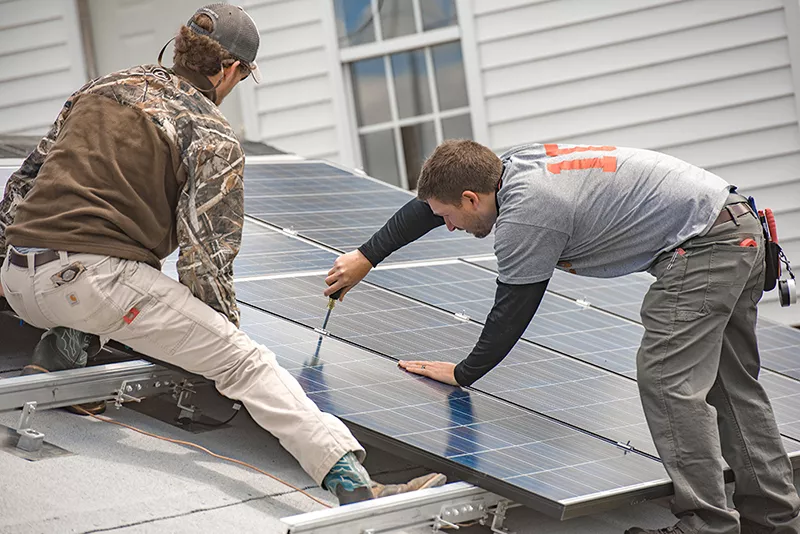 Four years ago, South Carolina passed legislation that created a pathway for growth in the renewable energy industry. With this change in South Carolina law, the demand for photovoltaic installers has increased.
Thus far, much of the installation service has been provided by out-of-state contractors. In response, Midlands Technical College (MTC) in Columbia, SC, recently launched a program to provide entry-level training to Midlands' residents in renewable energy solutions.
MTC's Renewable Energy Technician Certificate program teaches students to install, service and troubleshoot renewable energy systems to include solar and wind. Installations may be roof or ground mounted and may be fixed or variable to follow the trajectory of the sun. These technicians will also have the skills to service backup battery systems and will be able to install, service and replace these systems.
"Renewable energy sources, such as photovoltaic and wind turbines, are becoming more prevalent in the generation of electrical energy," said Alan Clayton, MTC's Department Chair of Industrial Technologies. "More than ever, it has become important for our community to have a trained workforce familiar with theory, installations, troubleshooting, and maintenance of renewable energy systems."
There is a growing market and demand for photovoltaic systems in the state of South Carolina. As the need for photovoltaics and renewable energy increases, so will the demand for entry-level, trained employees in this expanding field.
"Graduates of the program have the potential of entry-level positions in the photovoltaic installation and maintenance field as well as with other electrical and renewable energy contractors and maintainers," Clayton said.
The ideal candidates for this program are students who have good math skills, like working with their hands, and enjoy a variety of activities. Graduates might go to work for companies in the growing industry, or perhaps even open an installation and repair business of their own.
"There is certainly a potential for self-employment if someone has the desire to be an entrepreneur," said Clayton, "But the job market is quite healthy and will probably be growing for the foreseeable future."
This is a stand-alone certificate that gives students employable skills in just two semesters. Students receive hands-on training in both roof-mount and ground-mount solar-panel installation, energy storage installation and management, and other alternative energy options. Students become familiar with electrical codes, ordinances, print reading, and electricity fundamentals. Students also have 10 semester hours dedicated to the study of solar fundamentals and application.
"Our overall goal is to develop a trained workforce capable of installing solar energy appliances and equipment," said Clayton. "This supports the college's mission of developing students ready to enter the job market, build a workforce, and strengthen the economic development in the Midlands area and South Carolina as a whole."
For more information on MTC's Renewable Energy Technician Certificate program, visit MIDLANDSTECH.EDU.