Read All News
Individual Solutions for the Individual Business
Oct 08, 2019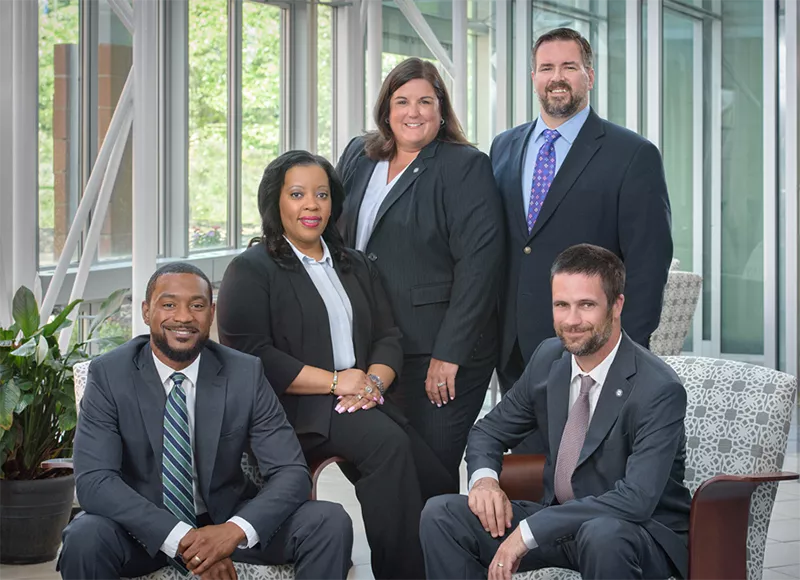 The MTC Business Solution Team
Whether a company is looking to enhance the skills of one employee or revamp its entire workforce, training solutions are not one size fits all. MTC's Business Solutions team helps companies like REI Automation, Inc. identify and implement the right solution to help meet organizational goals.
"We help businesses grow and prosper by working with them to overcome obstacles," said Rebecca Taylor, MTC's Business Solutions Executive Director. "It might be through a learning opportunity in a traditional classroom environment, an online class, or remote-learning opportunity; but it can also be working one-on-one with our subject-matter experts. We can help connect employers to resources that can help their businesses and organizations overcome challenges that may be costing them money or limiting their long-term success."
One company MTC is helping find workplace solutions for is REI Automation. REI specializes in designing and building custom industrial equipment, including assembly lines, robotic cells, and special-purpose machines. REI currently has eight of its supervisory staff enrolled in a unique program that offers a comprehensive blend of theory and experiential learning tools that prepares today's supervisors to succeed.
"MTC has provided our employees with numerous career development opportunities," said REI Human Resources Manager Tamara Addison. "Our partnership has served as a great marketing tool for helping get our name out in the community."
REI has connected with MTC Student Employment Services to recruit current students as employees. The company is also considering participating in the Midlands Youth Apprenticeship (MYA) program, a partnership among the Columbia Chamber, MTC, Apprenticeship Carolina, and participating Midlands school districts and employers.
"MTC Business Solutions has helped us find scholarship opportunities and professional developmental classes for our employees," said Addison. "They also introduced us to the Incumbent Workforce Training (IWT) Program that awarded us with funding for the courses."
The Business Solutions team makes it easy for employers to work with the college. Companies are assigned an individual business solutions director to call when they need anything business-related. Solutions could be training in a traditional classroom, help with a unique consulting project, connecting with recent students and recent graduates for employment, or allowing college subject-matter experts to job-shadow employees to identify training needs the company didn't even know existed.
"One of the things we do that sets us apart, that businesses tell us is so critical to our success, is that we listen and understand their unique needs and customize the training we deliver," Taylor said. "It creates a more dynamic and successful learning environment when the participants in the classroom are learning the new skills based on their work environment using examples that apply directly to their jobs and employer."
Business Solutions director Jeremy Catoe's approach is to treat each business as unique, with unique problems that demand custom solutions. It's never one size fits all.
"It's a lot like a doctor's visit," Catoe explained. "You tell the doctor what is hurting and get treatment. For our customers, we look for the areas where they feel we can help them improve their productivity, efficiency, or profitability. Our goal is to have meaningful, sometimes difficult conversations to identify problems and determine whether we may have a solution that fits. No two organizations are alike. Often a solution that works for one of our customers may not be an option for another."
"Our most basic principle is that we are here to help our customers build better workforce development pipelines," said Catoe. "Whether that happens through utilizing continuing education training, academic programs, or a custom mix of both, the goal is the same."
Through the relationships built with their customers, the Business Solutions team identifies a number of ways a company can meet its goals. MTC tools available include onsite training programs, online courses, Incumbent Worker Training grants, and Registered Apprenticeship programs. The results have proven worth the investment for REI Automation, Inc. and more than 100 other companies throughout the Midlands.
"Midlands Technical College has a great reputation throughout the Midlands," said Addison. "They are easily accessible, the courses are affordable and challenging, and the Business Solutions department is willing to help in any way it can. The staff are true professionals who believe in the development of people and businesses."
To connect with an MTC Business Solutions team member, call Rebecca Taylor at 803.691.3876 or visit MIDLANDSTECH.EDU/corporate.