Read All News
HT@MTC Hosts Historic Show of HBCU Choirs
Feb 11, 2020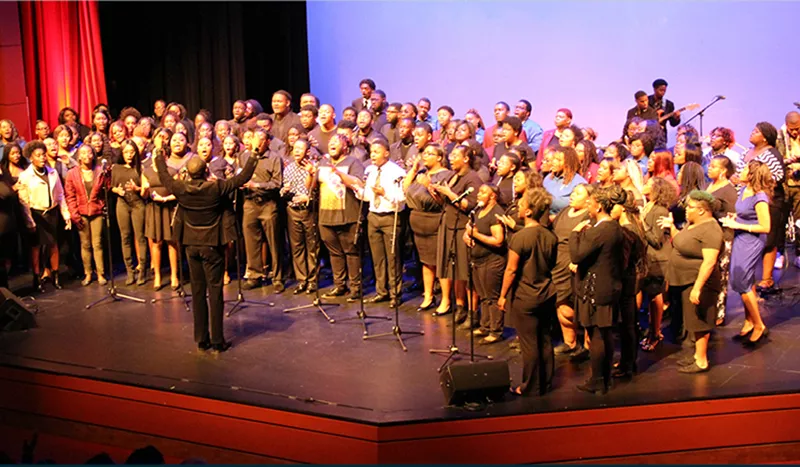 Harbison Theatre at Midlands Technical College (HT@MTC) was proud to host South Carolina's HBCU gospel choirs in "Gospel Live," a celebration and tribute to Black History Month.
"The impact of this powerful show not only touched the people in the audience but the HBCU community as a whole," said MTC President Dr. Ronald L. Rhames. "It was a privilege to see these incredible gospel choirs perform at Harbison Theatre during Black History Month, and we were thrilled to see how many HBCUs were represented."
Dr. Rhames is not only a graduate of MTC, but also very connected to the HBCU world. He continues, "I am a graduate of Benedict College, and I also served as Chief Financial Officer for Claflin University. This collective community is very special to me."
The event sold out quickly, and for good reason. Rarely do choirs like this come together in one space for one performance. The theatre was filled to capacity on the night of the show, and the energy in the room was undeniable.
"Music is my life's journey," says Kabra Benford, Director of the Benedict College Gospel Choir. He continues, "Gospel music is the center of who I am. The opportunity to share that with this great group of students is such an overwhelming joy."
This unprecedented performance started as an idea in the lobby of HT@MTC one year ago as Damien Sneed delivered a powerful performance at his "We Shall Overcome" event, a musical tribute to Dr. Martin Luther King, Jr.
During the "We Shall Overcome" intermission in 2019, HBCU presidents in attendance began to discuss the idea of their respective gospel choirs performing together at one event. Excitement over this idea continued to grow, planning began, and this historic performance started to take form.
One year later, on February 8, 2020, Harbison Theatre was proud to host South Carolina's HBCU gospel choirs, which included Allen University, Benedict College, Clinton College, Denmark Technical College, Morris College, South Carolina State University, and Voorhees College.
Each choir performed its own set. Then, there was a historic ensemble medley at the end of the performance in the intimate HT@MTC venue.
"The significance of this event was groundbreaking, and it truly was a special night," said Kristin Cobb, Executive Director of HT@MTC. "We were honored to host these talented groups on our stage in our beautiful theatre."
If you missed the show this year, check out these photos from the performance. There are already plans to reimagine the event in the coming seasons.
For information on the last few shows of the eighth season at Harbison Theatre at MTC, please visit HARBISONTHEATRE.ORG.