Read All News
High School Students with Disabilities Complete Successful MTC Job-Training Program with a BOOM
May 29, 2019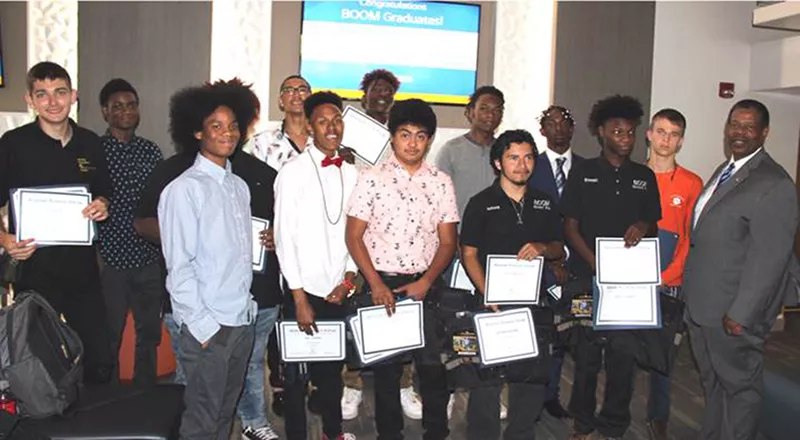 Fifteen students completed the Building Occupational Opportunities in the Midlands or BOOM Program. They received hands-on, real-world experience in the construction field, earned a 10-hour OSHA Construction Credential, and a Certificate in Building Construction from MTC. Many already have jobs in the construction field.
High school students from three area school districts graduated from a collaborative job-training program at Midlands Technical College (MTC) called Building Occupational Opportunities in the Midlands (BOOM). This program helps students with disabilities learn skills while still in high school and find employment with local homebuilders.
MTC President Dr. Ronald L. Rhames said the program is defining new pathways for students to find employment and is helping to fulfill MTC's mission to address critical workforce needs.
"Completing this program is not an end, but a beginning for these students and their dreams," Rhames said. "The valuable skills they have acquired will help them achieve those dreams. The BOOM program is already proving successful, as many of these graduates already had interviews and job commitments."
Graduates received hands-on, real-world experience in the construction field, leading to a Certificate in Building Construction from MTC and a 10-hour OSHA Construction Credential. Job offers came from business partners in the Builders Industry Association (BIA) of Central SC. Stan Beckley, who represented BIA at the graduation, said MTC's ability to look for "outside the box" solutions is part of why the program is working.
"These are the kinds of things I think are going to make a real difference going forward," said Beckley. "The BOOM program and the interest it has received will make a difference in creating interest in other organizations looking to develop similar programs. On behalf of our association, I want to thank all the partners who made this program possible. The partners have been phenomenal."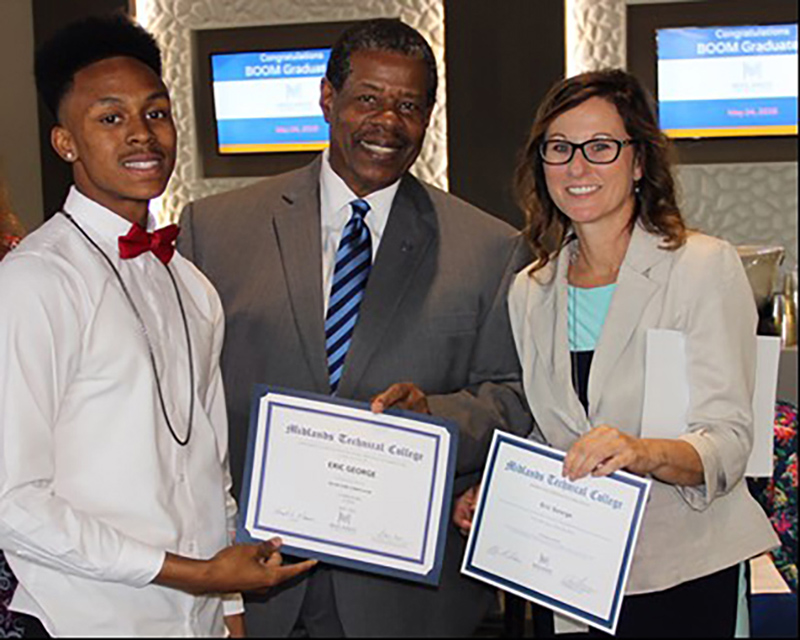 BOOM graduate Eric George, Dr. Rhames, and Tana Lee, Director of Technology and Career Education for Richland School District One, celebrate the graduation event.
Working with Richland School District One, Richland School District Two, and Lexington-Richland School District Five, MTC developed the program with member companies of the BIA, the Midlands Education and Business Alliance, the South Carolina Department of Vocational Rehabilitation, and South Carolina Works.
Beckley said he already sees success in the eyes of these new graduates.
"In today's world, you hear a lot about work ethic and communications skills in students," he said. "These students are living proof of what a good attitude and a strong work ethic can do. Congratulations to the students, and I welcome them to the workforce!"
Rhames congratulated the graduates before granting them their certificates.
"You have earned respect and admiration of MTC's faculty and staff, as well as all the BOOM partners. We are honored to spend this special day with you, your family, and your friends. You have earned this day of celebration of your achievements. Congratulations."
The South Carolina State Technical College System awarded the BOOM Program the A. Wade Martin Innovation Team of the Year Award earlier this year, citing it as the best collaborative and innovative program at any of South Carolina's technical colleges. BOOM also won the Program of the Year Award from the South Carolina Division on Career Development and Transition and the 2018 Outstanding Continuing Education Cooperative Program by the South Carolina Association for Higher Continuing Education.
Learn more about MTC's programs in Building Construction at MIDLANDSTECH.EDU.