MTC Gives Students The Chance To Get Started Early In Higher Education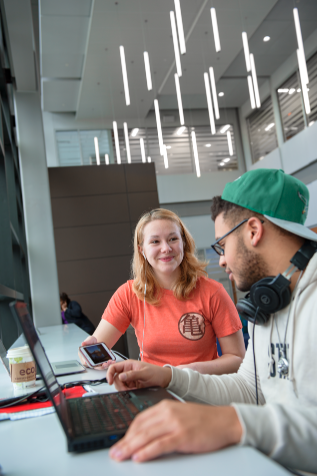 Midlands Technical College has several options for middle and high school students to earn college credit or get prepared for college entrance. Explore them here!
Dual Enrollment
Each year, hundreds of dedicated high school students take courses through MTC's Dual Enrollment program to get a jump-start on their college education.
Dual Enrollment allows qualified public, private, and home education students an opportunity to participate in an accelerated academic program. With Dual Enrollment, students pursue an advanced curriculum that may earn the student high school and college credit simultaneously. Prospective students must meet with their high school counselor and submit all required documentation and credentials before registering for courses.
Tuition and Fees

Dual Enrolled Students are not eligible to receive Federal Financial Aid. However, they may be eligible for SC Lottery Tuition Assistance Program (LTAP), and South Carolina Workforce & Industrial Needs Scholarship (SC WINS) funding. Students will be responsible for tuition and fees not covered by these aid programs. Check with Admissions to learn more about these funding options.

Dual Enrollment Options

Students have several dual enrollment options from which to select.

Work with your school to get approval to come to MTC and take Dual Enrollment classes on one of our six regional campuses.
Find out if you're in a district where MTC faculty are already teaching courses in your high school.
Take Dual Enrollment courses that are available through an online (asynchronous) or virtual (synchronous) delivery mode.

Please see your high school counselor to find out which option is best for you.

Admissions Requirements

Regardless of the options that you choose, you must submit the following:

Qualifying Credentials for Admissions and Placement (SAT, ACT, ACCUPLACER, High School Transcript, AP, IB, etc.)

LTA Waiver

Form​:

Transferring Dual Enrollment Credits

Most of MTC's general education college courses transfer to colleges and universities across the nation. In addition, selected colleges and universities also accept courses from MTC's applied technical and professional programs. However, the college to which the courses are being transferred determines the transferability of credits. Students should contact the college to which they intend to attend to ensure that their courses transfer.

Registration Process

After you submit a completed dual enrollment application and have been accepted, email us at dualenrollment@midlandstech.edu to arrange your Dual Enrollment advisement session.  

Contact Us

Have questions about dual enrollment at MTC? Contact one of the team members at dualenrollment@midlandstech.edu or 803.738.7178. 
Students in the Midlands Technical College Dual Enrollment program may be eligible for these programs.
The Midlands Youth Apprenticeship Program
The Midlands Youth Apprenticeship (MYA) program is a local partnership between the Columbia Chamber of Commerce, MTC, Apprenticeship Carolina, and participating Midlands school districts and employers across a variety of industries.
---
Educational Talent Search
If you are a middle school or high school student in Fairfield or Lexington county, you may be eligible to participate in a program designed to motivate and support students from disadvantaged backgrounds in their pursuit of a college degree. The Educational Talent Search (ETS) is a federally funded TRIO program of the U.S. Department of Education. TRIO programs provide academic tutoring, personal counseling, mentoring, financial guidance, and other supports necessary for educational access and retention.
---
Upward Bound
Provides fundamental support to participants in their preparation for college entrance. Upward Bound serves high school students from low-income families and high school students from families in which neither parent holds a bachelor's degree.