Read All News
Women Make an Impact at MTC
Mar 08, 2022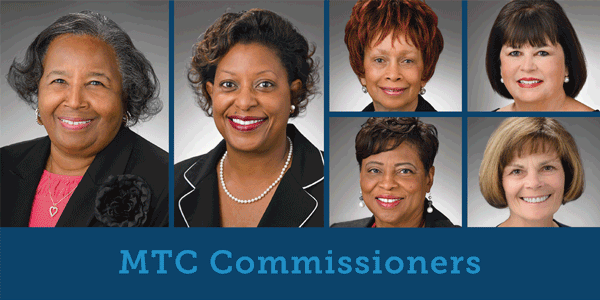 They are mothers, daughters, leaders, and dreamers. They inspire each other, empower our students, and reimagine our future.
At MTC, we are proud to spotlight the formidable females who work tirelessly on behalf of our students, our communities, and our families. Our student body is comprised of 60% females, and our employees represent our female students in the classroom and in the services sectors, as women make up 63% of our professors and staff.
They nurture our students during their pursuits of excellence. They foster an educational and social environment that enables women in all their diversity and richness gain a greater voice and excel in their personal and professional endeavors. On this International Women's Day, we salute the Women of Impact at MTC. Here are just a few of them.
Commission
Margaret Holmes, Past Chair
Sandra Jackson, Vice Chair
Katie Bolden
Diane Sumpter
Pamela Harrison
Paula Hite
Foundation Board of Trustees
Carolyn Ewing-Turner
Kristi Eidson
Lasenta Lewis-Ellis
Executive Council and President's Staff
Mary Holloway – Vice President for Student Development Services
Starnell Bates – Vice President for Institutional Support
Barrie Kirk – Provost
Debbie Walker – Vice President Business Affairs
Stefanie Goebeler – Assistant Vice President for Marketing Communications
Nancy McKinney – Associate Vice President for Philanthropy
Deans
Candace Doyle – School of Health Care
Rhonda Grego – School of English and Humanities
Donna Zeek – School of Interdisciplinary Studies
College Leadership
Emily Burns – Assistant Vice President for Counseling and Career Services
Diane Carr – Associate Vice Provost
Sylvia Littlejohn – Assistant Vice President for Enrollment Management Services
Amy Scully – Associate Vice Provost
Sheila Smith – Associate Vice President for Business Affairs