Read All News
NAACP Honors Dr. Ronald Rhames with Excellence in Education Award
Oct 11, 2022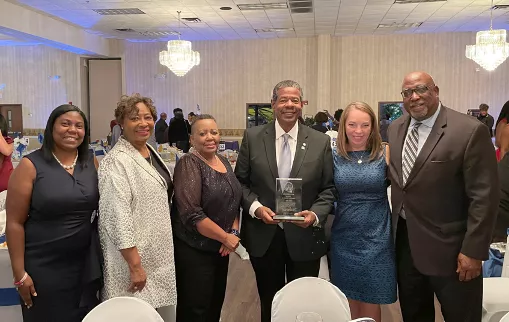 Midlands Technical College (MTC) President Dr. Ronald L. Rhames has been bestowed the Excellence in Education Award from the NAACP Columbia Chapter. The honor recognizes the significant contribution an educator has made not only in the profession but also in the community.
"Since 1990, my life has been dedicated to providing an enriching, rigorous, and accessible education to students in our community," said Dr. Rhames. "As a graduate of the college myself, I know the difference it has made in my life, and I know we are making a difference in the lives of many others."
Dr. Rhames is the first African American president of Midlands Technical College. He was presented the award at the 35th Annual Freedom Fund Awards Gala.
"We take pride in having one of the largest African American higher education student bodies in South Carolina. Our commitment to access and diversity is one we take very seriously for the betterment of our college, students, employees, and community," said Rhames.
Founded in 1917, the Columbia NAACP branch continues to carry on the goals and objectives of the national organization by being active in providing equality for all South Carolinians. In addition to the Excellence in Education award, five others focused on community service, faith, health care, arts, and an emerging leader.