Read All News
"Bad Day for a Drug Deal" – Mock Crime Scene
Feb 14, 2022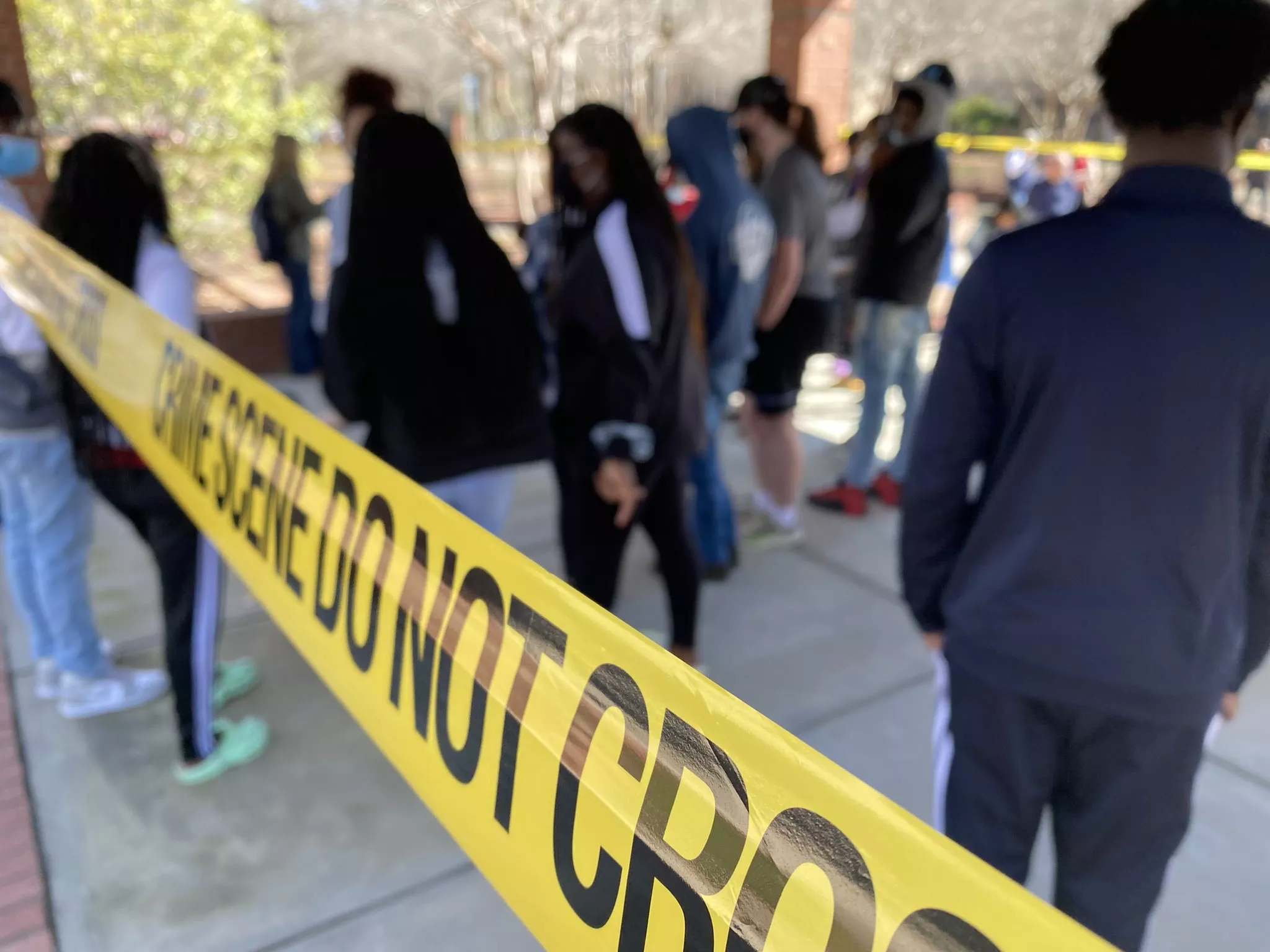 MTC students and journalists were on hand for "Bad Day for a Drug Deal" a mock crime scene on the Airport Campus on Wednesday, February 9, 2022.
The hands-on learning experience allowed participants to "step behind the yellow tape." Students acted as detectives, viewing and analyzing marked evidence, in order to complete course work, like writing a synopsis of their investigative findings.
During the on-campus event, Dwayne Lee, Criminal Justice Program Director, and attorney Debra C. Galloway, Paralegal Studies Program Director, spoke with local journalists from WLTX News 19, WIS News 10, and WACH Fox 57.
"They are walking through looking at the evidence and determining how is this evidence useful now? How could it be useful later? And then, after they have had a chance to absorb everything, they'll use a little inductive reasoning to try to determine what happened," said Lee.
Attorney Galloway added that events like the mock crime scene bring learning to life.
"They are enamored at the fact that it is not exactly like what you see on TV. So, being able to walk through the process and see how it realistically unfolds is valuable to the students," said Galloway.
Following the mock crime scene activity, Galloway led a virtual session for paralegal studies students entitled "Legal Defense Strategy Meeting" where students learned about the evidence collected from the scene and how attorneys might use it during a trial.
Great day for an outside learning experience. Our School of Education and Public Service presents a mock crime scene for #criminaljustice and #paralegal studies students. #SchoolsWeek pic.twitter.com/gRMR7kiT6l

— Midlands Technical College (@MidlandsTech) February 9, 2022
---
Interested in learning more about MTC's Paralegal and Criminal Justice programs? 
Paralegal
Paralegals assist lawyers in carrying out their professional responsibilities. Working under the direct supervision of attorneys, paralegals conduct research, prepare documents, and interview clients. Employment opportunities are available in diverse areas such as insurance, real estate, mortgage companies, government agencies, courts, and banks. Paralegals may not provide legal services directly to the public, except as permitted by law.
Paralegal Academic Certificate
Criminal Justice
Criminal justice professionals work in law enforcement, corrections, the court system, private security, and juvenile justice. These professionals have a thorough understanding of criminal justice concepts and theories including police administration, criminal law, criminal evidence and procedures, correctional systems, and criminology.
Criminal Justice Academic Certificate
Criminal Justice Associate Degree