September 16, 2020
New Weekend Hours at the Library and Academic Success Center
Plus, Request Your Student ID – Virtually
Welcome to the fourth week of Fall Semester!
Here are some updates and helpful tips to help as you continue your studies.
Something special for this Fall.
The Library and Academic Success Center will be open on the weekends this semester at MTC's Airport and Beltline campuses. Saturday and Sunday hours are 10 a.m. – 4 p.m. 
 
Request your student ID – virtually.
If you need a student ID, you can email Student Life to request one and have it mailed to you. Learn how on the Student Life MyMTC page – look for the "Student ID Cards" section.
Looking for a job? 
Visit the Student Employment Services web page and search our part-time and full-time job boards. That page also has numerous career guidance and job search resources. You can contact Student Employment Services staff at 803.822.3538.
 
Fall semester doesn't just start in August. 
Fall mini-mesters, which start later this month and in October, are still available. The last day to enroll in fall 10-week courses is tomorrow, September 17; and the last day to enroll in fall 7-week courses is October 14. Talk with your advisor for help getting the best schedule for you.
 
It's not too early to think about Spring Semester.
Now is a great time to book your Spring advisement appointment and plan the best schedule and major for you.
 
Keep it up.
Please continue to wear your face coverings, practice social distancing, and refer to the ON-CAMPUS STUDENT PLAN and GUIDELINES. You are doing a great job!
Stay well!
---
Take a look inside classrooms
MTC has worked diligently to make sure you feel safe in the new on-campus learning environment. Here is a look inside an MTC classroom to see what learning looks like from the student perspective.
Access student work spaces
Whether you're taking classes on campus, or you're taking online and virtual classes, MTC has safe where you can come to campus and get your school work done. The college's student work spaces are quiet spots on each campus where you can access WiFi, take part in virtual classes, and work on your assignments. Most spaces are open Monday - Thursday from 7:30 a.m. - 9:00 p.m., and Friday 7:30 a.m. - 1:30 p.m. Complimentary WiFi is also accessible from your vehicle in MTC parking lots 24/7.
These are the locations available:
Airport Campus - Library and Academic Center
Batesburg-Leesville Campus - BL Building (Open Tuesdays and Thursdays)
Beltline Campus - Learning Resource Center (LRC)
Fairfield Campus - Rooms 101/101A (8:30 a.m. – 3:00 p.m. M-Th)
Harbison Campus - Library/Academic Success Center (ASC)
Northeast Campus - Library/Academic Success Center (ASC)             
Airport | Beltline | Northeast | Harbison | Batesburg-Leesville*
*Hours: 7:30am - 4pm on T,TH 
Hear from MTC students
Fellow students say taking online and virtual courses this fall has its advantages. Hear their experiences, and listen to why you should want a seat at the table as a member of the Student Advisory Board (SAB). Applications are due Monday.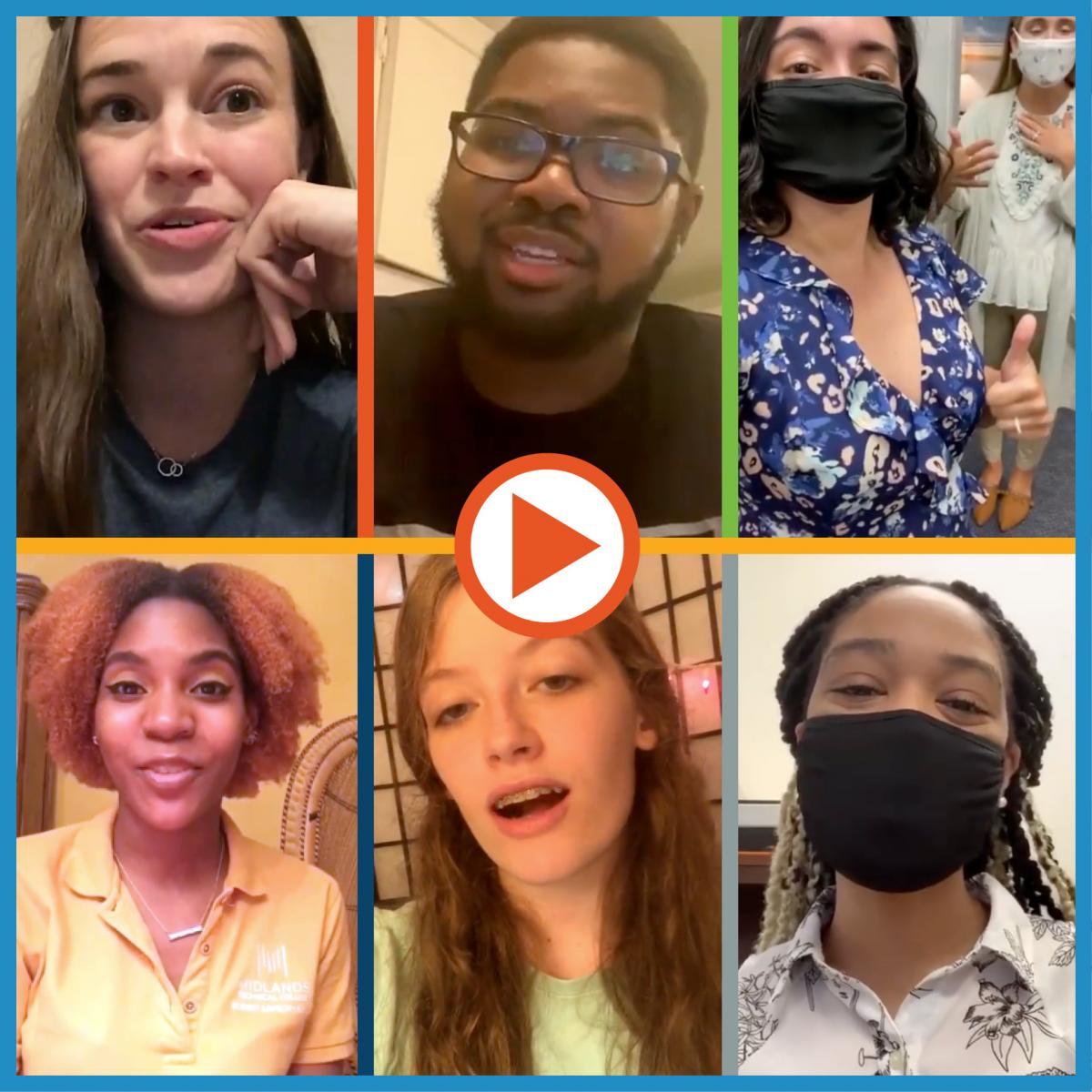 Again, welcome back, and best wishes to each of you this semester!
---
If you are sick (or have been around someone who is sick), please DO NOT REPORT TO CAMPUS.
Instead, adhere to the Centers for Disease Control and Prevention's (CDC) If You Are Sick guidelines, and contact Student Development Services (SDS) at 803.732.5201. A college staff member will talk with you, confidentially, about your situation and let you know how many days to stay away from campus.
---
Key Documents
---
Corporate and Continuing Education
Coronavirus Impact Update for August 19, 2020

Tips for getting ready. New training courses start this month.

Fall is almost here! We can't wait to see you on-campus, virtually, and online as your new programs and classes start this month. Please continue to familiarize yourself with the ON-CAMPUS STUDENT PLAN and GUIDELINES to help keep you safe and prevent the spread of COVID-19.

If you see someone on campus without a face covering:
Face coverings are required on campus while in the presence of others and in public settings including common spaces, meeting rooms, rest rooms, hallways, classrooms, labs etc. If you see a person not wearing a face covering, please let a faculty or staff member know, and he or she will address the situation for you. 

New Student Work Spaces
When you return to campus, you will have access to some new student work spaces. These spots around each campus are designed to allow for quiet work spaces when you need to access online materials or to take part in virtual instruction or classwork.

*Hours: 7:30am-4pm on T,TH 

    
Zoom Safety Reminders
MTC cares about your safety and your success. Here are some Zoom best practices in order to help keep your virtual classes protected and running smoothly. Learn more by watching Zoom EDU: Zoom for Students and reading MTC's Zoom Participant Guide. 

Back in Business
The Airport and Beltline campus Subway restaurants are open for business. You can stop in between 11 a.m. - 3 p.m.  Monday through Thursday. You can also call ahead and place your order. Call 803.822.6768 for the Airport Campus Subway or 803.738.7829 for the Beltline Campus.

ICYMI
The Fall 2020 Training Guide has arrived. From cybersecurity analysts to patient care techs, our programs and courses will help you reach your career goals.  MTC also offers online certificates and courses through our trusted training partners; search certificate options from UGotClass, career training from ed2go, and short-term training from ed2go.

Don't Forget
If you'd like to make sure you're on the Training Guide mailing list, please contact the CCE Registration Office at cce@midlandstech.edu.

Coronavirus Impact Update for August 5, 2020

Dear Students,

It's finally August. That means in just a few weeks, all MTC campuses will be open to students taking on-campus classes. When you arrive, things will look and feel a little bit different. We've been proactively putting precautions in place that include social distancing, disinfecting protocols, rearranging classrooms, and safety reminders. Here's a behind-the-scenes glimpse at what learning looks like now on the MTC campuses.

Please continue to familiarize yourself with the ON-CAMPUS STUDENT PLAN and GUIDELINES. Collectively, we all bear personal responsibilities to help prevent the spread of COVID-19. Our goal is to keep you safe while preparing you for your next educational and career steps.

Final Thoughts:

MTC Welcomes Home Soldier with Diploma

ICYMI

: This past Friday, President Ron Rhames presented Specialist Doug Long of the South Carolina Army National Guard with his degree. Spec. Long completed his coursework taking five classes online while serving overseas. 

Watch the local and national reports here

.

Need training options for the coming months?

 Learn about what Corporate and Continuing Education is offering through QuickJobs Programs, new self-paced, online certificate programs, and Virtual STEM Summer Camps.

CCE Student Update: Check to verify the location of your class. Plus, new weekend hours at the Library and Academic Success Center.
covid-19 FAQ
​Reminder: If you have not yet read it, please review the
 On-Campus Student Plan and Guidelines and Student FAQs. 
COVID-19 INFO
Contact Us
PHONE: 803.738.8324
(Calls returned within 24 hours)
TEXT: 803.738.1400.
ONLINE CHAT: Reps available via the homepage
Email: askmtc@midlandstech.edu
Slow the Spread
Centers for Disease Control
Recommendations:

MTC COVID-19 REPORTING LINE
If symptoms have developed, students MUST NOT come to campus, but should notify Student Development Services (SDS) at 803.732.5201.
COVID-19 symptoms include: fever, muscle pain, cough, headache, shortness of breath, sore throat, chills, new loss of taste or smell, repeated shaking with chills.