Read All News
Real Pathways: MTC Lays Clearer Path for Students with Transfer, Articulation, and Bridge Agreements
Aug 14, 2018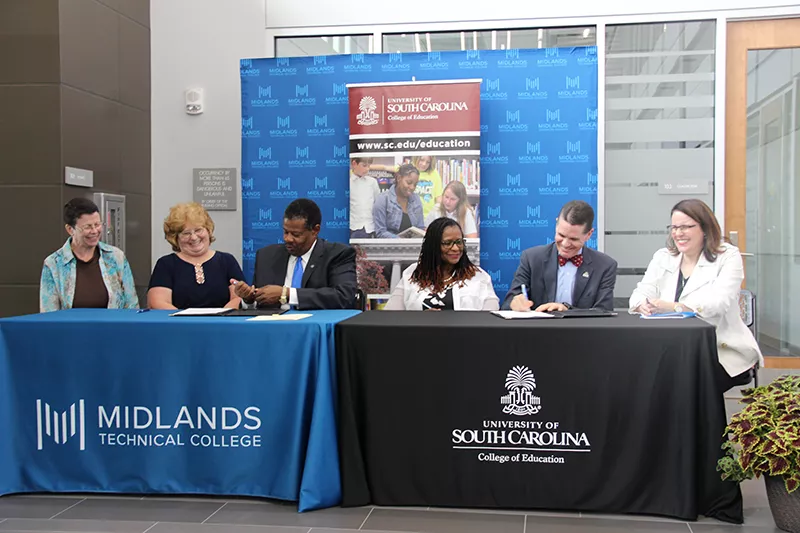 ​Students who apply to Midlands Technical College have many choices when it comes to continuing their higher education path after graduation.
"Historically, Midlands Technical College has been the number one choice for students planning to transfer to the University of South Carolina," said MTC President Dr. Ronald L. Rhames. "Agreements like this add another layer to a great relationship. MTC is the place to start for anyone wanting to further their education because we specialize in offering classes that help students balance school, work, and family life."
There are three options for MTC students who want to transfer to a four-year college or university: articulation agreements, bridge programs, and transfer programs.
Articulation agreements are partnerships between specific four-year colleges and universities and specific MTC academic programs. Students are given clear pathways and supportive activities that enhance their transfer success and simplify the complexity of determining courses.
"Articulation agreements are great to eliminate the guess work regarding transferability," said Sandra Hackley, Associate Vice Provost for Career Programs. "Following an articulation agreement saves students not only time, but also eases the financial burden by taking two years of courses at MTC prior to transferring."
Another option is the bridge program. This provides opportunities for students to successfully transfer to selected four-year colleges and universities. Students are linked to their transition college early in their coursework at MTC, so they are provided a clear pathway and supportive activities that accelerate the process.
Midlands Technical College has many bridge program agreements including ones with Benedict College, Claflin University, Coker College, College of Charleston, Columbia College, Lander University, Newberry College, and the University of South Carolina.
Another great option we provide to students of all types are MTC transfer programs. These are partnerships between four-year colleges and universities with MTC's Associate in Arts (AA) or Associate in Science (AS) degree programs where it's easy to transfer course credits to many excellent in- and out-of-state colleges and universities.
With the affordability, ease, and accessibility of these programs, they all create an incredibly important lifeline to student success.