Back to Calendar
2021 Graduation
May 01, 2021 - 10 AM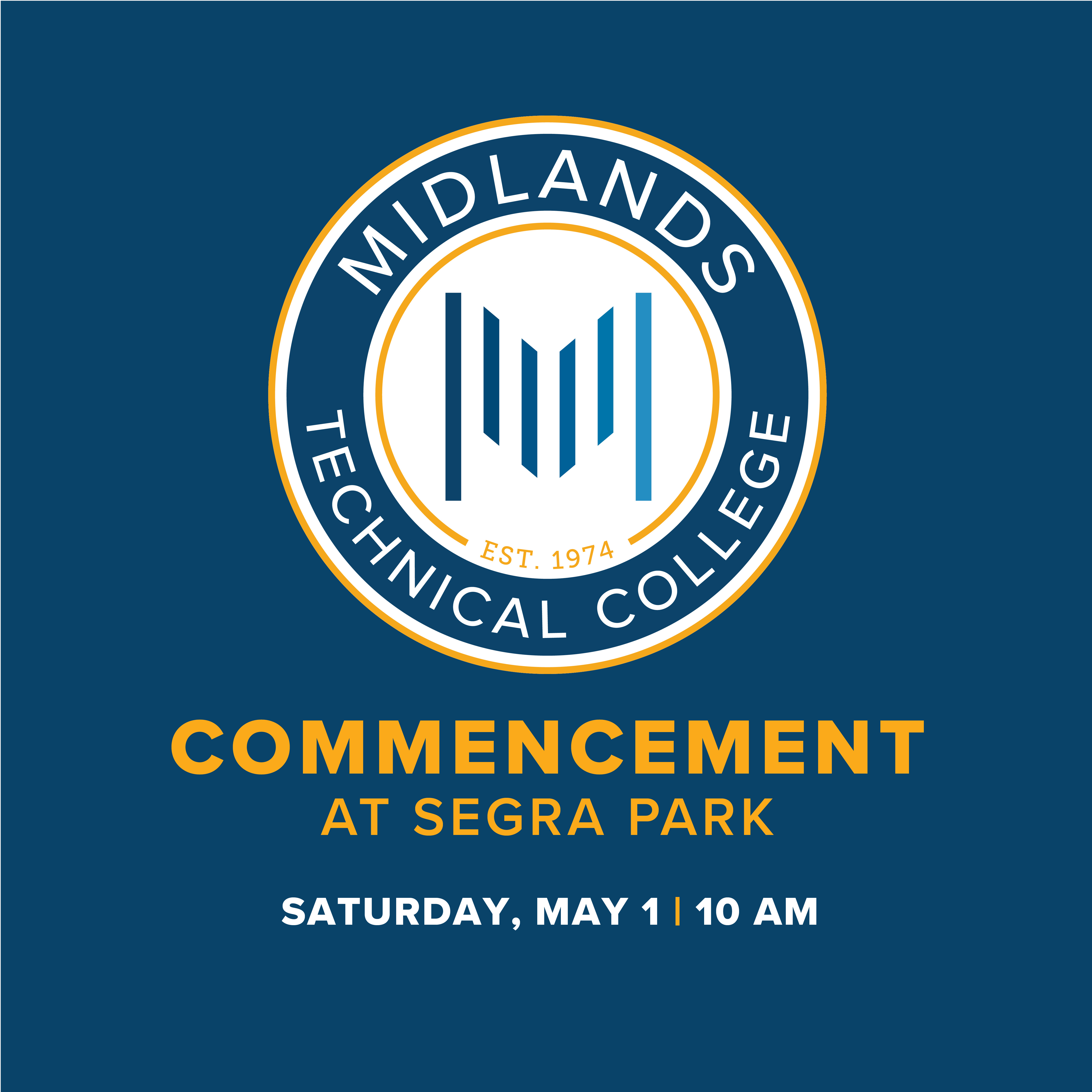 Graduation will be in-person and outdoors at Segra Park, the official site of the Columbia Fireflies. The event will also be live streamed for those who cannot attend in person.
🎓DEADLINES EXTENDED. Students who will finish their programs in Spring or Summer 2021 are able to participate in graduation. You need to:
🎓 If you would like to order invitations, you can also order those from the MTC Bookstore.
For the health of participants and guests, COVID-19 safety protocols such as wearing face coverings and maintaining social distance will be followed. 
Graduation Eligibility Details

Students who will complete course work in Spring or Summer 2021 are eligible to participate. You need to complete the graduation application and RSVP (mentioned above). Additional information will be sent to you once we receive your RSVP, so please double check the accuracy of your submission.

You must wear an MTC cap and gown to participate in the 2021 Commencement Ceremony. If you would like to order invitations, you can also order those from the MTC Bookstore.

Look out for important information in your official MTC email and get ready to celebrate with your family and friends.

Ticketing

Tickets are free for everyone, including students, their guests, and employees. However, to comply with health and safety precautions, tickets will be provided in advance and will be available as space permits. Check back soon for ticket ordering details.

Live Stream

Details about how to access the graduation live stream will be provided here closer to the event.

Rain Date

In the event of inclement weather, the rain date is May 22, 2021.

Faculty and Staff Information

DEADLINE EXTENDED: Faculty and staff who already have regalia and wish to participate must RSVP by Friday, April 9. 

Notes about the RSVP and order form:

If you plan to participate but do not need regalia, just complete the top of the form and leave the checkboxes blank in the regalia order section.
There will not be a reception after graduation in compliance with COVID-19 precautions. You can leave that section blank.
Additional information will be sent to those RSVP regarding the logistics of receiving regalia and instructions for the May 1 ceremony. 

Graduate Class Giving Campaign

Congratulations, Class of 2021!

Thanks to your hard work and dedication at MTC, you are prepared to transform your life and community!  This is your year, and we hope you'll join your fellow graduates in making a gift to the Graduate Class Giving Campaign.
 
Alumni who give $21 or more will receive a green and silver philanthropy cord to add to their graduation regalia.

Are you ready to pitch in?

Making a gift is quick and easy; scan the QR code below or visit midlandstech.edu/alumni. Be sure to include your contact information; the MTC Alumni Association will be in touch to coordinate your philanthropy cord pick up.

Spring and Summer Applicants
The invitation to participate in the commencement ceremony is not confirmation of program completion. Applicants must meet program completion requirements once Spring and Summer 2021 grades have posted to be graduated by the Office of the Registrar.