Back to Calendar
Get Psyched with MTC 2021
Mar 29, 2021 - Apr 02, 2021
Explore the field of psychology and learn how Post-Traumatic Stress Disorder (PTSD) impacts our lives and our community with this free virtual conference. This year's conference is held in conjunction with MTC's School of Social and Behavioral Sciences Week.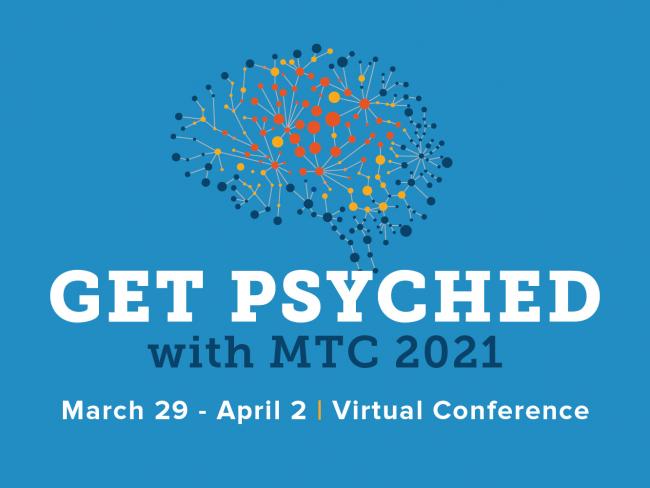 Agenda
Welcome Event (Introduction of PTSD)

Monday, March 29, 2021 | 6:00 p.m. – 7:30 p.m.
Watch videos about the background, causes, and types of PTSD. Then hear from people in our community about their personal experiences dealing with PTSD.

PTSD Treatments

Tuesday, March 30, 2021 | 9:35 a.m. – 11:00 a.m.
Through live presentations and short videos, learn about PTSD treatments from experts in the field. Treatments discussed include Eye Movement Desensitization and Reprocessing (EMDR) and Virtual Reality (VR). Students will ask questions from 10:30 a.m. – 11:00 a.m.

PTSD Types and Resources

Wednesday, March 31, 2021 | 12:45 p.m. - 2:10 p.m.
Learn about types of PTSD and resources for treatment.

It is Time to Talk/Clothesline Project Resources for Sexual Assault with Shannon Nix Plus Veteran Resources

Explore the Field of Psychology

Friday, April 2, 2021 | 11:00 a.m. - 12:00 p.m.

Ask the Psychologist Shorts | Join us for Ask the Psychologist where you can ask expert psychologists questions on a variety of topics in the field of psychology. This event provides students with the opportunity to interview psychologists to acquire information and answers to their questions from a range of areas in the field of psychology. MTC Psychology students will co-host the interviews.

Friday, April 2, 2021 | 12:00 p.m. - 1:30 p.m.

Career Panel | Join us for a career panel with experienced psychologists and practitioners that represent the many, diverse career pathways in psychology. This event will allow students to inquire about careers in the field of psychology. Students will hear from panelists about the many, diverse career pathways for students in psychology; receive academic and career advice; learn more about how psychology can be used to improve the human condition; and have the opportunity to participate in a question and answer session with the panelists.
More details, plus registration links coming soon.