Back to Calendar
2021 SC Technical Colleges Virtual Career Fair
Apr 20, 2021 - 10 AM - 3 PM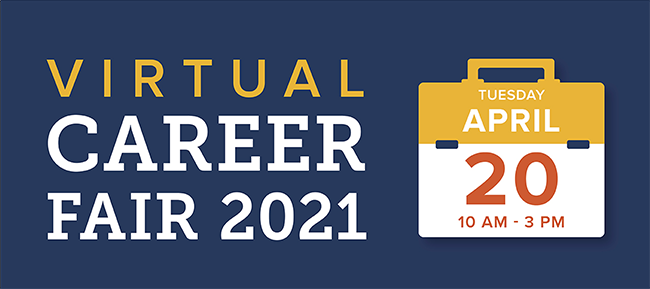 The 2021 Virtual Career Fair is happening on April 20! Over 85 employers from all over South Carolina will host one-on-one and group sessions to discuss jobs and internships with students like you. Don't miss this opportunity to meet employers who want to hire technical college students.
Step 1: Sign Up for a Handshake Account
Visit https://joinhandshake.com and select the blue "Sign Up" button in the upper right corner.
Add your .edu school email address into the box. click "NEXT"
Type your school name and select it in the drop down box. Click "Next" and then "Next" again.
Create your password and then select the box agreeing to the Terms of Service, then click "Create Account".
Complete registration and then select "Next".
Check your email to confirm.
Step 2: Register for the SC Technical Colleges Virtual Fair
Visit the link provided by MTC Student Employment Services (SES) and then select "Register."
Once you have registered, you will receive an email confirmation. Select "View Employer Sessions" in either location.
This will take you to the Available Sessions tab in the upper-left of the page, below the fair title and date/time. You can come back to this tab at any time to register for more sessions, even during the fair! (To participate in the Career Fair you must sign up for employer sessions.)
When you locate an employer that you'd like to sign up for a session with, look for the session information to appear below the employer name and description.
Group sessions will have a custom title and indicate a length of 30 minutes.
If multiple divisions (departments) from the company have registered, the group session title may include the division name for clarity!
1:1 sessions are indicated by "One on One with EMPLOYER NAME" and are 10 minutes each.
Click on the name of the session you'd like to sign up for.
Note: We recommend using Community to make the most of your Handshake experience, as this will allow you to participate in all fair sessions and engage with other students/alumni! For more information on privacy, please refer to the Profile Privacy Options in Handshake.
Group Sessions
Review the information, and if you'd like to proceed, click Confirm to sign up.
If a Group Session is at capacity, it will not appear in the list any longer, so if it's listed, that means there is still availability.
1:1 Sessions
The session host's name is listed with their job title below. Click on your preferred session start time, then click Confirm to sign up.
You can sign up for only 1 session per recruiter –– to sign up with another recruiter, click on "One on One with EMPLOYER NAME" again, then select your preferred session.
Managing Session RSVPs
You are able to sign up for as many sessions as desired, with the following guidance:
Session times may not overlap. If you would like to sign up for a session, but there is a red dot to the right of the time, this indicates the time overlaps an existing signup. You'd need to cancel the existing session or event registration in order to proceed.
You may sign up for multiple 1:1 sessions from the same employer, but not more than one session with the same recruiter. If you'd prefer a different session time with a recruiter, you'll first need to cancel your existing 1:1 session, then select a new time.
As you sign up for sessions, a list of sessions will populate to the right of your screen in Handshake.
Click on the name of a session for more information about the session or to cancel your reservation.
You can also click on the tab for Your schedule in the upper-left of the fair's page to for a list of signed up sessions.
Click the name of the session for more information or to cancel the session.
Click Show open sessions to sign up for more sessions.
We hope to see you there!
Questions? Contact Wayne Marter, Director of MTC Student Employment Services at 803.822.3321 or marterw@midlandstech.edu for additional details.