It is extremely important to continue to wear your face covering, wash your hands and use hand sanitizer, and social distance. If you have questions regarding COVID-19 safety on campus, please refer to the MTC COVID-19 Student Plan and Guidelines below.
If you are sick (or have been around someone who is sick), please DO NOT REPORT TO CAMPUS.
Instead, adhere to the Centers for Disease Control and Prevention's (CDC) If You Are Sick guidelines, and contact Student Development Services (SDS) at 803.732.5201. A college staff member will talk with you, confidentially, about your situation and let you know how many days to stay away from campus.
Again, welcome back, and best wishes to each of you this semester!
MTC COVID-19 Student Plan and Guidelines

I. GUIDING PRINCIPLES

As we navigate and respond to the COVID-19 pandemic, Midlands Technical College (MTC) protocols are developed to protect the safety and wellbeing of the MTC community, the public, and all MTC constituents. This, while continuing to achieve the College's critical mission of education and workforce development.

While the information contained in this Return to Campus Plan is designed to keep everyone as safe as possible, note that EACH OF US is responsible for helping ensure that our students and colleagues are protected by strictly adhering to these protocols.

MTC's plans are consistent with the Executive Orders of the Governor of South Carolina and the guidelines and recommendations of our public health authorities, the South Carolina Department of Health and Environmental Control (DHEC) and the Centers for Disease Control and Prevention (CDC). Timelines are driven by DHEC and CDC recommendations.

Public health officials continue to learn more and to communicate their findings about the COVID-19 virus. MTC's procedures, plans, and protocols will be revised as necessary based on new information.

II. RETURN TO THE CAMPUS

Per the CDC, "COVID-19 is mostly spread by respiratory droplets released when people talk, cough, or sneeze. It is thought that the virus may spread to hands from a contaminated surface and then to the nose or mouth, causing infection." Therefore, personal prevention practices such as social distancing, wearing face coverings, handwashing, staying home when sick, plus environmental cleaning and disinfecting are important practices to apply as we transition back to campus.

Expectations & Guidelines
All prospective and enrolled students are expected to fully comply with the procedures, protocols and guidelines outlined in this document or otherwise posted, communicated or directed by the college, local, state or federal authorities. To offer the most protection for yourself and those around you, assume everyone including yourself, is infected with COVID-19 and strictly adhere to the guidelines to avoid transmission of the virus. Failure to comply with the policies and protocols may result in disciplinary action.
      
Requirement - Symptom Self-Monitoring
Once students return to campus, each is expected to self-check daily for the onset of new symptoms. If symptoms have developed, the student MUST NOT come to campus, but should notify Student Development Services (SDS) at 803.732.5201. Presently, COVID-19 symptoms include one or more of the following:

Fever
Muscle pain
Cough
Headache
Shortness of breath
Sore throat
Chills
New loss of taste or smell
Repeated shaking with chills

This list does not provide all possible symptoms. Other less common symptoms have been reported, including gastrointestinal symptoms like nausea, vomiting, or diarrhea.

If you are sick, DO NOT REPORT TO CAMPUS. Adhere to the Centers for Disease Control and Prevention's (CDC) If You are Sick guidelines, and contact SDS at 803.732.5201. The SC Department of Health and Environmental Control (DHEC) recommends that you call your health care provider if you have fever, cough, or shortness of breath. For a free online health assessment, please see DHEC's listing of telehealth virtual care providers in South Carolina. DHEC also offers a 14-day Symptom Monitoring Worksheet.

III. HEALTH AND SAFETY REQUIREMENTS - Preventive Personal Safety Practices

Face Coverings
Appropriate use of face coverings is critical in minimizing risks to others around you. You could spread COVID-19 to others even if you are not feeling sick as some infected persons never experience symptoms. The face covering is not a substitute for social distancing.

MTC students are REQUIRED to wear a face covering on campus while in the presence of others and in public settings including common spaces, meeting rooms, rest rooms, hallways, classrooms, labs etc.
Your face covering protects others and their face covering protects you. Students may purchase or make their own face covering.

Use the Face Covering to Protect Others

Wear a face covering to protect others in case you're infected but don't have symptoms
Keep the covering on your face the entire time you're in public or near another person
Don't put the covering around your neck or up on your forehead
Don't touch the face covering, and, if you do, clean your hands

Wear Your Face Covering Correctly

Wash your hands before putting on your face covering
Put it over your nose and mouth and secure it under your chin
Try to fit it snugly against the sides of your face
Make sure you can breathe easily
If you are wearing a reusable face covering, make sure it is cleaned regularly

Take Off the Face Covering Carefully

Avoid touching the eyes, nose, and mouth when removing your face covering > Untie the strings behind your head or stretch the ear loops
Handle only by the ear loops or ties
Fold outside corners together
Place covering in the washing machine > Wash your hands with soap and water

Students may be required by college departments to wear additional personal protection equipment (PPE) for their safety and others.

Social Distancing
Maintaining adequate space between you and others is one of the best ways to avoid being exposed to and/or spreading COVID-19. Recent studies suggest that COVID-19 may be spread by people who are not showing symptoms. Therefore, social distancing is important for everyone, especially to help protect people who are at higher risk for severe complications related to COVID-19.

While on campus, students are expected to adhere to these social distancing practices:

Stay at least 6 feet (about 2 arms' length) from other people at all times
Avoid gathering in groups. Groups of 10 or more are strongly discouraged. > Stay out of crowded places and avoid gatherings
Follow directional and instructional signs

All MTC students should practice social distancing protocols on campus where individuals are likely to interact. Our collective safety must be a team effort.

Handwashing
Wash your hands often with soap and water for at least 20 seconds especially after you have been in a public place, or after blowing your nose, coughing, sneezing, or touching your face. If soap and water are not readily available, use a hand sanitizer that contains at least 60% alcohol. Cover all surfaces of your hands and rub them together until they feel dry. Avoid touching your eyes, nose, and mouth, and wash your hands after touching your face.

Intensify Cleaning/Disinfection
Custodial cleaning teams have intensified cleaning and disinfecting according to cleaning protocol and consistent with CDC guidelines. To help protect yourself and others, (1) avoid use or sharing of items that are not easily cleaned, sanitized, or disinfected
(2) wipe down commonly used and shared equipment and surfaces before use such as desktops, computers, printers, etc.

Coughing/Sneezing Hygiene
If you are in a private setting and do not have on your face covering, remember to always cover your mouth and nose with a tissue when you cough or sneeze or use the inside of your elbow. Immediately discard the tissues in the trash and wash your hands with soap and water for at least 20 seconds. If soap and water are not available, use sanitizer that contains at least 60% alcohol.

Campus Preparation
Hand sanitizing stations have been installed across the campus. Some common spaces may be unavailable and/or provide limited seating to promote social distancing. Safety and directional signs have been posted throughout the campus. Students are expected to follow signs on traffic flow through buildings, elevator usage, restrooms, and similar common use spaces.

IV. HEALTH AND SAFETY GUIDANCE - Responsive

Students who feel ill or have symptoms not due to a pre-existing underlying chronic health condition are required to stay home. MTC Faculty and staff have a responsibility to immediately direct a student to go home if the student is experiencing symptoms of COVID-19. Faculty and staff are then to notify SDS at 803.732.5201 so that appropriate actions can be initiated quickly.

Confirmed or suspected cases of COVID-19 will be managed according to the College's Exposure Protocol. Actions outlined in the protocol include, when appropriate, coordinating with DHEC to determine course of action and follow-up based upon CDC guidance, coordinating additional cleaning and sanitizing, making appropriate internal notifications to those who may have had an exposure, and managing the return to campus process.

V. CAMPUS SCENARIOS

Use of Restrooms
Use of restrooms should be limited and six feet of separation should be maintained.
After using a restroom, wash your hands thoroughly to reduce the potential transmission of the virus.

Use of Elevators
Practice social distancing when using the elevator. Limit the number of occupants by waiting for the next elevator or use the stairs. If you are using the elevator, wear your face covering and avoid touching the elevator buttons with your exposed hand/fingers, if possible. Wash your hands or use alcohol-based hand sanitizer that contains at least 60% alcohol.

Meetings
Student group meetings will be held virtually.


VI. MENTAL HEALTH RESOURCES

COVID-19 Student FAQs

By Executive Order, face coverings must be worn in state buildings, which includes all Midlands Technical College campuses.

*Please refer to the COVID-19 Student Plan and Guidelines below for more  information*

Are students required to wear a face covering while on campus?
Yes. MTC students are required to wear a face covering while in the presence of others or in public settings on MTC campuses. Public settings including common spaces, meeting rooms, hallways, classrooms, labs, etc.

Where can students purchase a face covering/mask?
Students may purchase face coverings via the college bookstore or the cashier's office. A face covering is required when individuals arrive on campus. Students also have the option to purchase from a retailer or make their own.

How are students maintaining social distancing on campus?
Everyone must take responsibility for maintaining six feet of separation during interactions with each other. Classrooms, labs, common spaces, waiting areas, and services areas will have social distancing guidance posted and marked.

How is the college helping to ensure a safe environment?
As always, the health and safety of the MTC community is a top priority. The college has issued guidelines and protocols based on SC Department of Health and Environmental Control (DHEC) and the Centers for Disease Control and Prevention (CDC) guidelines.

Additionally, the following precautions are in place:

Cleaning of facilities and equipment is occurring much more frequently
Protective shields are installed where appropriate
Hand sanitizing stations and sanitizing wipes are available for cleaning high-touch and personal work spaces
Educational and caution signage is in place throughout the college's campuses and facilities
Individual student's circumstances and concerns are being addressed by Student Development Services (SDS)
Exposures are being managed according to DHEC and CDC recommendations and the MTC exposure protocol
Employees and students are required to adhere to CDC and DHEC safety recommendations

What if students choose not to wear a face covering or observe six feet of distancing?
All prospective and enrolled students, visitors, and employees are expected to fully comply with the procedures, protocols, and guidelines outlined for health and safety on campus. Primary among these are wearing a face covering and observing six feet of distance between individuals. Student Development Services is working with students who are unable to wear face coverings by offering alternative instruction and service options. Failure to comply with the protocols may result in disciplinary action.

What will the academic semester be like?
The college is offering a wide range of class delivery formats including on-campus, online (asynchronous), virtual (synchronous), and hybrid. Students can see how a class will be delivered when they use the Course Search or when they view class availability in Student Planning.

Training classes through our Corporate and Continuing Education Division are added every week. Please check the website regularly for offerings. Many classes are offered online in addition to on-campus.

Will students see any changes to attendance requirements?
Many students' lives have been impacted by COVID. Faculty are being flexible on attendance and are working with each student based on individual circumstances to help them successfully complete classes. Faculty are looking for a student's presence/participation in the class – which can be measured by active participation, successful completion of assignments, communication with the faculty and physical presence.

What is MTC doing if there is a positive exposure on campus?
Confirmed or suspected cases of COVID-19 are managed according to the College's Exposure Protocol. Actions outlined in the protocol include, when appropriate, coordinating with DHEC to determine course of action and follow-up based upon CDC guidance, coordinating additional cleaning and sanitizing, making appropriate internal notifications to those who may have had an exposure, and managing the return to campus process.

How are services be accessed to maintain social distancing?
The College is continuing to provide students the full array of student support services. However, how students access these services will vary depending on the type of services and the size of the service areas. The number of guests a student may bring to an appointment may also be limited to comply with social distancing and safety protocols.

Some services are provided by appointments only or through various virtual methods. For example, Academic and Career Advising plans to continue to have the option to complete advisement using Zoom. Students are also receiving many online resources.

How will the college bookstore operate?
The physical Barnes & Noble bookstores reopened on July 27, 2020. Online ordering is available 24/7.

Are student organizations contining to meet?
Student organizations are meeting virtually.

Parent/Supporter FAQs

By Executive Order, face coverings must be worn in state buildings, which includes all Midlands Technical College campuses.

Top 10 Parent/Supporter FAQs

What types of courses are being offered on campus?
As part of the response to COVID-19, Academic and CCE courses for Fall 2020 can be taken in four different ways. In addition to traditional on-campus and online courses, the college also now offers virtual and hybrid classes. The new virtual class format meets digitally via web conferencing (such as Zoom) at set times with live, real-time instruction and classmate interaction. Online courses are self-paced with due dates for assignments, and hybrid courses are a mix of traditional on-campus and online or virtual.

Search the MTC course offerings to see how specific classes are being offered.
What types of courses have you moved to online/virtual?z
Until the pandemic hit, a normal fall semester at MTC would be made up of about 75% on-campus and 25% online courses. Based on data about the virus and student feedback, we decided that a major shift in course delivery options was necessary.

The new virtual offerings will make up 45% of fall courses, with another 16% being delivered online, 33% being delivered on-campus, and 6% in the hybrid format.

Online and virtual courses will not switch to on-campus during the semester. On-campus courses have the possibility of moving to online or virtual during the semester.

Search the MTC course offerings to create a schedule that fits your comfort level.
What is the difference between the 4 types of courses being offered this fall?
MTC has more course delivery options than ever before. The goal is to accommodate the desires of every student wishing to start or continue their educational pursuits. Here are the four different ways you can take an Academic or Corporate and Continuing Education course.

- On-Campus - Traditional. Classes meet on campus.
- Online - 100% online. Due dates given for projects and assignments. Self-paced so you can work on your own time - 24/7.
- Hybrid - Some class sessions meet on-campus, and some classes meet online or virtual.
- Virtual - 100% online. Meet with your instructor and class members live on specific days at specific times. Uses web conferencing software like Zoom.
What happens if my student is in an on-campus course but needs—or wants—to flip to a virtual course?
For all courses, faculty will work with students who cannot attend one or more class meeting to help them continue successfully in the course. The student should be sure to communicate the need to his/her faculty member(s) as soon as possible.
Can you guarantee that an on-campus class will remain on-campus all semester?
As we head into the fall and winter seasons, there are still a lot of unknowns with the virus. MTC remains committed to student and employee safety, and the college is prepared to be flexible in order to maximize the student experience and minimize the impact on learning.
How can I get financial aid? How do I know where my student stands with his/her financial aid?
The first step to applying for all forms of financial aid including grants, scholarships, loans, and work study is completing a FAFSA (Free Application for Federal Student Aid) at the Federal Student Aid website. Please list MTC's school code, 003993, on the FAFSA to have your student's application sent to Midlands Technical College. After the FAFSA has been submitted and processed, the Office of Student Financial Services will send the student notification of all eligible federal, state, and college awards.

If any additional documentation is required, the Office of Student Financial Services will send a request via the student's MTC email account. Students should sign into MyMTC and access MyFinancialAid to easily manage their financial aid package from submission to completion.

The Educational Opportunity Center (EOC) is available to assist students and parents with completing the FAFSA. Contact EOC at 803.822.3749 or eoc@midlandstech.edu.
How is the bookstore operating, and can we use financial aid for books/supplies?
The Barnes and Noble bookstore will continue to operate on campus and online. Students may use their financial aid to purchase books and supplies. 
How does course registration work? What do we do if my student has to join a waitlist for a class?
During the Zoom advising appointment, Academic and Career Advisors utilize a program called Student Planning to help students understand their program of study. The advisor will then place recommended fall courses on the student's visual "timeline" in Student Planning. At the close of the appointment, the student will be "web enabled" through August 26 – meaning they are able to add courses, drop courses, or switch the scheduled sections of courses through that date.

You can view a helpful YouTube video here that walks through registration in Student Planning. A downloadable guide (with step-by-step registration instructions), as well as a link to drop-in registration assistance over Zoom, is available in MyMTC.

If a course or a desired section of a course is full, a student may join a waitlist for that course or section. The student simply selects the word "Waitlist" when adding the section to their plan in Student Planning. Should a seat become available in the course, students will be notified via their MTC e-mail in the order in which they joined the waitlist. The student then has a specific amount of time to register in the class before the seat is offered to another student on the waitlist.

There is no guarantee that a student on the waitlist will be able to enroll in that section. If other sections of the course are available, students should register in a section that is available. The student could also then join a desired section's waitlist.

Please note, students in waitlists are not registered for the course, so a waitlisted course does not calculate into your tuition/fees. You are only charged for the course when you are registered in the course.
What is the difference between online orientation and the COL course?
Online orientation is required for new freshmen, new transfers, and readmitted students, and it is completed before the student's first advising appointment. This free, online course takes approximately 1 hour to complete. Students are added to the course in the D2L platform within 24 hours of admission. Online orientation prepares the student and answers some of these key questions:

- Am I in the right MTC program for me and my career goal?
- How will I cover the cost of college, especially if I need financial aid?
- What does MTC expect from me?
- When do I need to make important decisions?
- When can I meet with an advisor and register for my courses?

COL 101, 105, and 106 – MTC's student success courses – are courses students take in their first semester. They engage students in deeper exploration of career pathways in their School of Study, equip students with a more thorough understanding of their programs of study, and prepare students for success with tools and activities they can use from their first semester through graduation. COL courses build upon the foundation started in online New Student Orientation.

How is the college offering students support this fall?
Counseling and Career Services is continuing to provide personal, academic, and career counseling for students. Students also have access to 48 online workshops that include helpful topics on How to Reduce Test Anxiety, Study Tips and Notetaking Strategies, and Stress Management Techniques. Student Employment Services is assisting students with searching for part-time and full-time job opportunities. Student Life is providing fun, interactive weekly activities including Bingo, Trivia, and Music Breaks.
 

MTC is providing face-to-face tutoring during established hours as well as online tutoring 24/7. Students taking online and virtual classes can find spaces to work on campus using their own devices and the college's internet. Students are also welcome to use college computers and internet on campus for their online and virtual courses. Students needing help with research can come to one of our campus libraries or chat with a Librarian virtually (Ask-a-Librarian) to get assistance.

Midlands Technical College works to make sure its programs, services, and activities are accessible. Disability Services actively coordinates with faculty and staff of the college to provide equal access to the college's educational programs, services, and courses on a case by case basis. Should a student need to request an accommodation, it is the student's responsibility. A student's initial request for accommodations should preferably occur prior to the beginning of a program or course, but can be requested at any time.
Access student work spaces
Whether you're taking classes on campus, or you're taking online and virtual classes, MTC has safe where you can come to campus and get your school work done. The college's student work spaces are quiet spots on each campus where you can access WiFi, take part in virtual classes, and work on your assignments. Most spaces are open Monday - Thursday from 7:30 a.m. - 9:00 p.m., and Friday 7:30 a.m. - 1:30 p.m. Complimentary WiFi is also accessible from your vehicle in MTC parking lots 24/7.
These are the locations available:
Airport Campus - Library and Academic Center
Batesburg-Leesville Campus - BL Building (Open Tuesdays and Thursdays)
Beltline Campus - Learning Resource Center (LRC)
Fairfield Campus - Rooms 101/101A (8:30 a.m. – 3:00 p.m. M-Th)
Harbison Campus - Library/Academic Success Center (ASC)
Northeast Campus - Library/Academic Success Center (ASC)             
Airport | Beltline | Northeast | Harbison | Batesburg-Leesville*
*Hours: 7:30am - 4pm on T,TH 
---
Hear from MTC students
Fellow students say taking online and virtual courses this fall has its advantages. Hear their experiences, and listen to why you should want a seat at the table as a member of the Student Advisory Board (SAB). Applications are due Monday.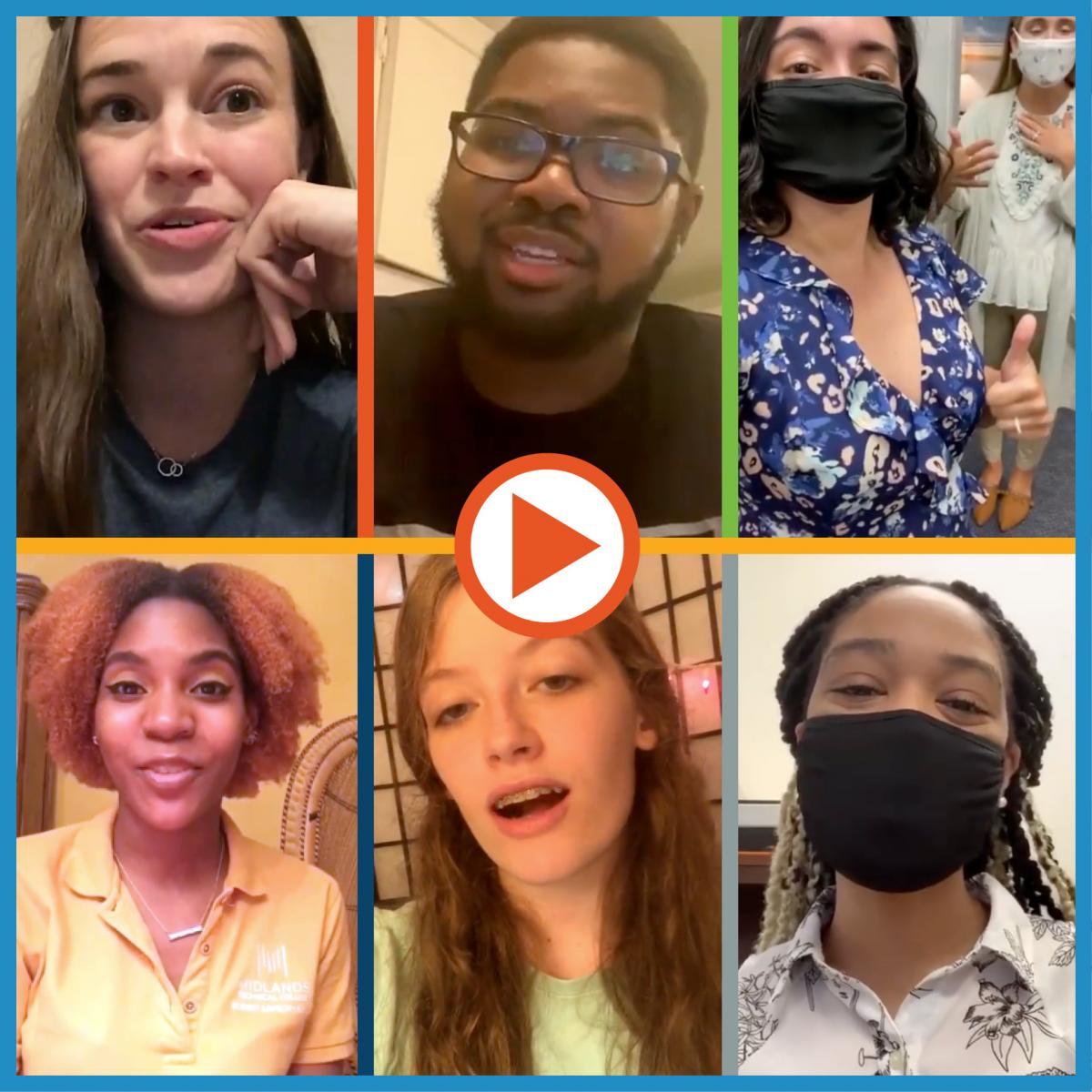 Corporate and Continuing Education
Learn about offerings through QuickJobs Programs, new self-paced, online certificate programs, and Virtual STEM Summer Camps.
CCE Students:
CCE Student Email for November 18, 2020

Coronavirus Impact Update for August 19, 2020

Tips for getting ready. New training courses start this month.

Fall is almost here! We can't wait to see you on-campus, virtually, and online as your new programs and classes start this month. Please continue to familiarize yourself with the ON-CAMPUS STUDENT PLAN and GUIDELINES  to help keep you safe and prevent the spread of COVID-19.

If you see someone on campus without a face covering:
Face coverings are required on campus while in the presence of others and in public settings including common spaces, meeting rooms, rest rooms, hallways, classrooms, labs etc. If you see a person not wearing a face covering, please let a faculty or staff member know, and he or she will address the situation for you. 

New Student Work Spaces
When you return to campus, you will have access to some new student work spaces. These spots around each campus are designed to allow for quiet work spaces when you need to access online materials or to take part in virtual instruction or classwork.

*Hours: 7:30am-4pm on T,TH 
Zoom Safety Reminders
MTC cares about your safety and your success. Here are some Zoom best practices in order to help keep your virtual classes protected and running smoothly. Learn more by watching Zoom EDU: Zoom for Students and reading MTC's Zoom Participant Guide. 

Back in Business
The Airport and Beltline campus Subway restaurants are open for business. You can stop in between 11 a.m. - 3 p.m.  Monday through Thursday. You can also call ahead and place your order. Call 803.822.6768 for the Airport Campus Subway or 803.738.7829 for the Beltline Campus.

ICYMI
The Fall 2020 Training Guide has arrived. From cybersecurity analysts to patient care techs, our programs and courses will help you reach your career goals.  MTC also offers online certificates and courses through our trusted training partners; search certificate options from UGotClass, career training from ed2go, and short-term training from ed2go.

Don't Forget
If you'd like to make sure you're on the Training Guide mailing list, please contact the CCE Registration Office at cce@midlandstech.edu.

Coronavirus Impact Update for August 5, 2020 

Dear Students,

It's finally August. That means in just a few weeks, all MTC campuses will be open to students taking on-campus classes. When you arrive, things will look and feel a little bit different. We've been proactively putting precautions in place that include social distancing, disinfecting protocols, rearranging classrooms, and safety reminders. Here's a behind-the-scenes glimpse at what learning looks like now on the MTC campuses.

Please continue to familiarize yourself with the ON-CAMPUS STUDENT PLAN and GUIDELINES. Collectively, we all bear personal responsibilities to help prevent the spread of COVID-19. Our goal is to keep you safe while preparing you for your next educational and career steps.

Final Thoughts:
---
---